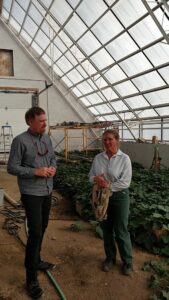 When Susan Wyman of Gunnison Gardens in Colorado contacted us last year about building a greenhouse with Faswall's highly insulated block forms, we could immediately see the benefit of using our eco ICFs for the project. Greenhouses work by enhancing solar gain. Add the heat-retaining thermal mass and Faswall's insulating blocks, and it seemed likely that this greenhouse would work better than most.
Susan lives in a part of the world where heat retention is particularly important. Gunnison, Colorado is one of the five coldest cities in the United States. "When we got frost on the 14th of July, I didn't know if that was the first frost or last frost," she says.
Because of that, Gunnison might seem like an unlikely place to garden year-round. But that's what Gunnison Gardens is doing. The farm is in its third year of growing plants, vegetables and cold-hardy vegetables for local residents. (We're also delighted that they're a dealer for Durable GreenBed, our raised gardening bed kits.) They hope to eventually become a source of sustainably-grown food for the region.
"The U.S. is headed toward a low-energy future," Susan says. "Since I think we're going to be concerned about food security in the future as well, we have to look at how we're going to feed our communities throughout the winter without having to rely on fossil fuel energy."
That's why a greenhouse was so important to Susan. But she didn't want to build one that require fossil fuels to operate. "I was looking to build a cold climate greenhouse or four-season greenhouse," she says. "A lot of folks have built these structures in Colorado and Minnesota and other places. They're often done with poured concrete. I was looking for a more environmentally-friendly DIY project."
Susan researched cold climate and four-season greenhouses online and by reading books such as The Forest Garden Greenhouse (which she highly recommends). Then she designed a structure that fit Gunnison Gardens' needs.
Next she searched for the right materials to build the greenhouse with. When she found Faswall, an eco ICF wall form, she was impressed by the blocks' very high thermal mass and recycled material content. The fact that the product was easy to use was also a plus; Gunnison Gardens employees were going to build the greenhouse, and most of them had little to no construction experience.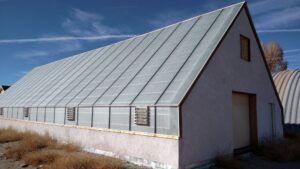 One of the first and most important steps in creating the greenhouse was building a climate battery. Also known as a subterranean heating and cooling system, a climate battery is basically a net zero energy heating system. To build the climate battery, Susan and her staff dug five feet into the ground and laid tubes made from perforated and corrugated HDPE. A fan would force warm air from the greenhouse into the ground, where it would warm the soil and create a good growing environment for plants. At night, any warm air stored in the earth could be pushed back into the greenhouse to keep the structure warm.
"A lot of our plants are growing in the soil in the floor of the greenhouse," Susan says. "So keeping that soil warm is critical for plant health."
To capture the solar energy needed to provide that warmth, the team at Gunnison Gardens built a wall with three layers of polycarbonate plastic on the south-facing side. The remaining walls were constructed from Faswall. The greenhouse was finished with spray-in insulation on the north side of the metal roof.
"The block itself is very easy to understand," Susan says of Faswall. After one day of coaching from Faswall construction expert Mark Maricle, her staff was able to put up the remaining walls with little assistance.
The finished structure is around 30 feet wide, 80 feet long and 19 feet tall. "So far it's gotten to minus 15 degrees Fahrenheit outside and it's never frozen inside the greenhouse," Susan reports. "It stays above 40 degrees.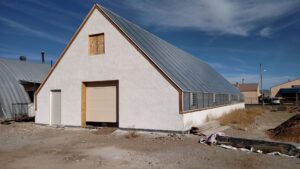 "The structure works in part because Colorado is really sunny," Susan continues. "The solar gain in phenomenal." In addition, "the mass of that thermal wall is amazing in terms of maintaining heat storage and release during the night."
2016 was the first year Gunnison Gardens used the new greenhouse. Susan was able to grow warm weather crops like tomatoes, cucumbers and melons into the fall. The strawberries are still going. This year she'll start seedlings in March and cultivate foods such as broccoli, cauliflower and sweet potatoes later in the year.
For farmers, garden center, homesteaders or homeowners thinking about building a greenhouse, Susan has this advice: "Do your homework up front, build it to last, and crunch your numbers. Make sure it makes financial sense."
Following those steps created a positive result for Gunnison Gardens. "I'm really pleased with the outcome," Susan says. "It was a big undertaking for us, but I'm convinced this is what we need for the long term."
If you'd like more information about using Faswall for a greenhouse, storage building, home, office or a project of your own design, please contact us.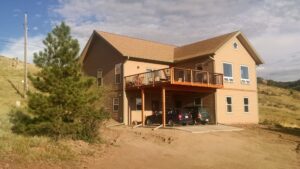 Our last blog post discussed the theory behind designing and building high performance homes. For this post, we'd like to discuss the practice of building high performance homes with Faswall ICF wall forms.
Jack and Carolyn Clark's 3,200 square foot home in Ft. Collins, Colorado exemplifies many components of high performance building. The home is very energy efficient, thanks in part to Faswall's extremely high thermal mass. It's built to last for at least 300 years, so it's quite durable. High-quality materials such as 3-0 windows and a propane/heat pump HVAC system ensure excellent life-cycle performance. Since both Jack and Carolyn have allergies, they used building materials designed to ensure good indoor air quality and occupant productivity.
The Clark residence sits on an acre of land Jack's parents bought in 1972. Their 750-square-foot house overlooked Horsetooth Reservoir and was intended to be a summer home. But his parents made it their permanent residence until they passed away.
Jack wanted to stay on the property, but he had a different vision for his forever home. He wanted more space and a house that could be passed down to future generations of his family. Jack had his parents' old home deconstructed in 2012, then started looking into suitable building materials for a new structure.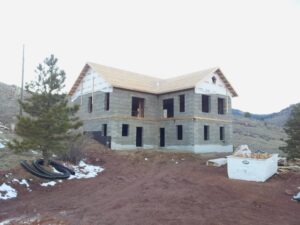 "Carolyn and I wanted to incorporate as many progressive products and techniques as possible for the build," Jack says. "I was looking for a unique, thermally-efficient, cost-effective approach. We met [ShelterWorks co-owner] Paul Wood at a home and garden show in Denver and became very interested in his building method right away because the Faswall system allowed for well-insulated, high internal thermal mass wall construction." Local Faswall representative Mark Maricle was also a great resource throughout the building process.
Faswall was also a good fit with some of Jack and Carolyn's architectural requirements. They both grew up in a section of New Jersey with many Dutch Colonial style homes. They liked the deep window wells found on those structures, which is an added bonus of using Faswall's one foot by two foot blocks. They wanted to finish the interior walls with smooth plaster and the exterior with lap siding, which meant using a building material flexible enough to accept any type of finish.
Once he selected Faswall, Jack went in search of a builder. He wanted someone willing to work with a non-traditional material. He also needed someone with enough attention to detail to build a high-quality home capable of lasting for 300 years.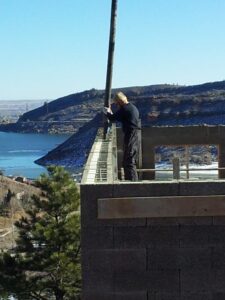 He found both in Matt Doner of Traditional Roots Joinery & Construction in Ft. Collins. Matt is primarily a timber frame builder, but he was excited to combine his carpentry skills with the easy-to-use Faswall blocks.
The home that evolved incorporated the best of both. Jack says one of his favorite features in his Faswall home is the beams crossing the vaulted ceilings. They're made with Northwest fir and locally-sourced Ft. Collins walnut. Jack also likes the elevator, which makes moving people and furniture around the space much easier; the highly efficient windows and sliding glass doors, all of which were manufactured by a Colorado company; and those deep window wells. The home has the exact same orientation as his parent's house, which gives the family views of the reservoir.
Function dictated design for the house, Jack says, and the layout is a great fit with the family's needs. An open floor plan upstairs makes entertaining more enjoyable. A mud room/laundry room/bathroom accommodates muddy dogs and gardeners, as well as sopping boots on snowy days. The Clarks hope to eventually add a wrap-around porch, much like the ones on the Dutch Colonial homes they remember so fondly.
Jack has tracked the home's performance since he moved in and is very pleased with what he's found. Their electricity comes from the rural cooperative, and the home has a propane/heat pump furnace for heating and cooling. "The rural electric bill averages $100 per month, and we use no more than 21 gallons of propane per month," he says. "Our utilities (other than water) average $125 per month for a 3,200 square foot home with three adults living here full time."
Thanks to the insulative value of the Faswall blocks, as well as strategically placed insulation, the home stays comfortable no matter how warm or cool it gets outside. "The thermal mass maintains the inside temperature better than convention builds," he says. "Therefore the HVAC does not have to 'catch up' as much to maintain temperature. When we have 50 degree days and 20 degree nights, the house will lose no more than one to two degrees overnight."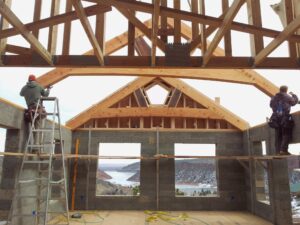 Jack has several pieces of advice for anyone building with Faswall. It's important to look at the whole home when planning for energy efficiency. "Besides picking very efficient heating/cooling equipment, insulate the ground floor slab from the ground below it and the footers," he says. "Consider using varied insulation types according to where the insulation is installed and the clearances required.
"Do not be stingy with glazing," Jack continues. "Look closely at what the window and door frames are made of. Fiberglass is non-conductive and will not warp.  Consider how much sun and what type of sun should pass through the glazing. All heat and light can be controlled to the owner's benefit. Choose a window and door supplier that understands this and can customize products to control the heat loss and gain."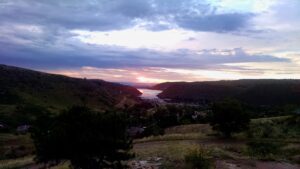 Although Jack didn't build his own home, he has this advice for do it yourself home builders: "It pays to get tricks from Paul or one of his representatives. It will make the job go smoothly."
Would you like to learn more about how Faswall can help you build a high performance home? Whether you're a builder or contractor, architect or engineer, or DIY home builder, we can help. We can also offer advice on using Faswall for high-efficient, high performance, eco-friendly office buildings, outbuildings, warehouses and much more. Please contact us today for more information. If you want more information about Faswall right away, check out our free technical manuals.
As you read about the advantages of building a home with Faswall green building blocks, you'll notice we give a lot of attention to the product's superior thermal mass. What is thermal mass? And why is thermal mass an important thing to consider when building an energy efficient, environmentally friendly home?
Your Home, a green home building website developed by the Australian government, defines thermal mass as "the ability of a material to absorb and store heat energy." If a material takes a lot of energy to heat up and cool off (like bricks and other types of masonry), it is said to have high thermal mass. On the other hand, if a material does not require much energy to go from hot to cold (like wood), it has low thermal mass.
If done correctly, thermal mass is an important principle in green building because it can help you increase your home's energy efficiency and lower your energy bills. Products with high thermal mass absorb and release heat slowly, which is actually to your advantage. On cold days, you have a steady supply of warmth radiating into your home over a long period of time. On hot days, the building heats up really slowly and gradually dissipates that heat once it begins to cool off outdoors.
Faswall green building blocks are made with a mineralized wood product, which gives it a high thermal mass. Each block comes with an insulating insert, and once stacked, builders pour a pea gravel concrete aggregate mix down two cores in the center of each block. This makes the building's thermal mass even higher. The end result is a home, office, or commercial center that will keep you cozy warm in the winter and nice and cool in the summer. The fact that Faswall green building blocks are made with 60 percent recycled materials is an added benefit for people interested in green, environmentally friendly homes.
Ben Turner, a retired nurse practitioner and do it yourself home builder, can attest to the benefits of high thermal mass. He used Faswall green building blocks to construct a one-story home with a daylight basement in southwest Washington. "This house weighs about 600,000 pounds," Ben says. "When it gets warm it stays warm. In the summertime, if it gets hot it stays cool on the inside. It's an amazing place to live."
"I just don't have to worry about heating," he adds. "If I don't want to build a fire on a day like this, where it's 40 degrees out, it still won't get cold inside. It holds the heat that much because again, the house is so heavy. There's so much thermal mass in there." (Ben shares more of his story in the video below.)
In addition to using the Faswall green building blocks, Ben put in lots of south-facing windows to allow in light and solar gain. He uses a masonry stove in the center of the house to provide radiant heat in the living space and pre-heat water for the hydronic floors in the basement. The combination of this heating system, the home's passive solar design, and Faswall's great thermal mass means he is spending around $100 a month on his electric bill.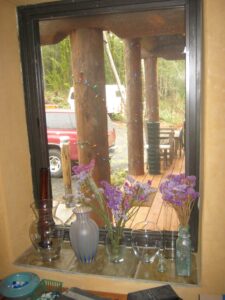 Ben notes that he was first attracted to Faswall green building blocks not because they create extremely energy efficient homes, but because they are exceptionally durability. Ben remodeled and worked on all the other homes he'd lived it. When it came time to build the home he would enjoy in retirement, Ben says, "I just wanted to … build it and it would be done and I wouldn't have to maintain it. So that's what we did here."
Since Faswall is made with a combination of recycled wood and cement, it does an exceptional job of standing up to the elements, pests, and other things that can damage a home. Ben used lime plaster, also called loam plaster, for the outside of the structure. The product is made with a combination of sand and limestone, Ben notes, and "it's been used for thousands of years. The wonderful thing about it is it lasts forever. It just gets harder over the centuries. Like a limestone cave, if it cracks or water runs in it, it just heals up the cracks, so it's a very low-maintenance exterior."
Another feature that makes the home so easy to care for is that it doesn't require painting. To achieve the attractive reddish-brown color on the outside, Ben sprayed the lime plaster with ferrous sulfate, the main ingredient in many brands of moss killer. "It was a very fun process and very easy to do," he says. Best of all, it cost about $5 to coat the entire exterior.
Would you like to learn more about Faswall's thermal mass, energy efficiency, durability and other great features? Please contact us today for more information.