Energy Efficient Net Zero Building
A net-zero home is one with zero net energy consumption and zero carbon emissions annually. This is achieved by using solar energy or other alternative sources of power.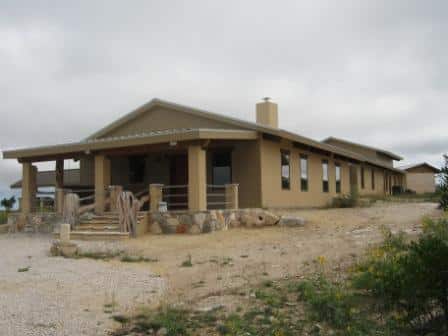 Minimize need for heating and cooling with High Thermal Mass
The first step of building such a home is to reduce your energy needs as much as possible.
Texas Net Zero Home
Ron and Ralph collaborated to build this beautiful, net zero, passive solar, custom home in rural Real County, Texas. Ron wanted to do much of the work himself, and Faswall green building blocks are a perfect fit for DIY home builders. Another benefit of Faswall is their unique thermal mass properties. Ron does not have to use much power/energy to cool his home in the summer and heat it in the winter. Watch this video to learn about Ron and Ralph's experience and the many benefits of Faswall.
Building a Faswall woodchip block home that provides a net zero impact in energy usage was Ben Turners goal. Finishing the exterior with lime stucco created an additionally beautiful home. Zero maintenance and zero energy usage; with an artistically beautiful finish!
We absolutely love our new Passive Solar home. No other structure that we have lived in gives the same unique, solid, and ambient comfort such as Faswall. Our experience with the technical support from a Shelter works contractor was an important part of the project success.I personally worked with the crew on a portion of the home and had no problem understanding and implementing proper construction technique. Ultimately we choose Keim plasters and paints for a soft, strong, and fully vapor permeable system. As the electrician on the job I quickly adapted to the pre-planning requirements of using Faswall. Additionally our plumber and other tradesman were able to plan accordingly and easily adapt to a construction method which ultimately is so much better than stick building."
Scott Green, Birmingham, Alabama
You'd be surprised at the various types of homes and commercial buildings that can be built with Faswall. Check out some of the recent projects..
Photo Gallery
I Want To Get Started