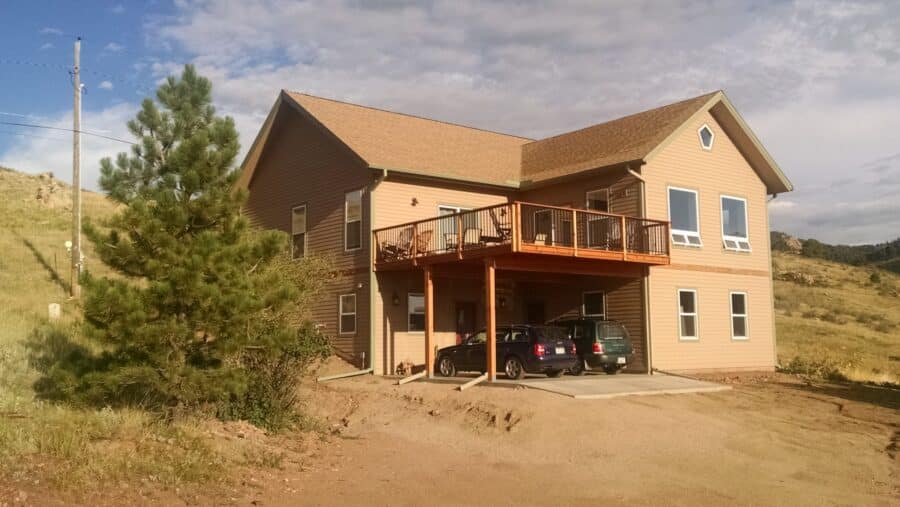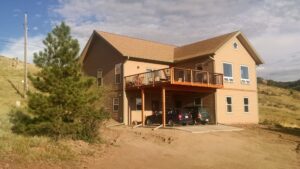 Our last blog post discussed the theory behind designing and building high performance homes. For this post, we'd like to discuss the practice of building high performance homes with Faswall ICF wall forms.
Jack and Carolyn Clark's 3,200 square foot home in Ft. Collins, Colorado exemplifies many components of high performance building. The home is very energy efficient, thanks in part to Faswall's extremely high thermal mass. It's built to last for at least 300 years, so it's quite durable. High-quality materials such as 3-0 windows and a propane/heat pump HVAC system ensure excellent life-cycle performance. Since both Jack and Carolyn have allergies, they used building materials designed to ensure good indoor air quality and occupant productivity.
The Clark residence sits on an acre of land Jack's parents bought in 1972. Their 750-square-foot house overlooked Horsetooth Reservoir and was intended to be a summer home. But his parents made it their permanent residence until they passed away.
Jack wanted to stay on the property, but he had a different vision for his forever home. He wanted more space and a house that could be passed down to future generations of his family. Jack had his parents' old home deconstructed in 2012, then started looking into suitable building materials for a new structure.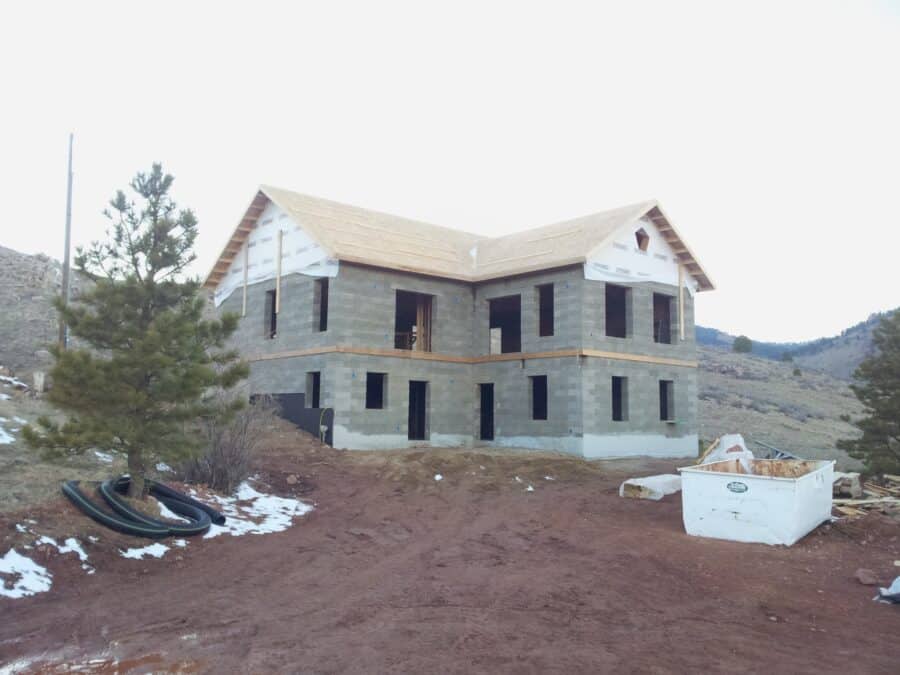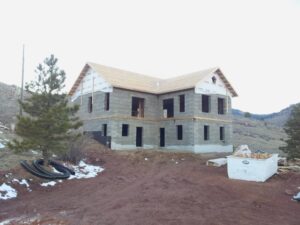 "Carolyn and I wanted to incorporate as many progressive products and techniques as possible for the build," Jack says. "I was looking for a unique, thermally-efficient, cost-effective approach. We met [ShelterWorks co-owner] Paul Wood at a home and garden show in Denver and became very interested in his building method right away because the Faswall system allowed for well-insulated, high internal thermal mass wall construction." Local Faswall representative Mark Maricle was also a great resource throughout the building process.
Faswall was also a good fit with some of Jack and Carolyn's architectural requirements. They both grew up in a section of New Jersey with many Dutch Colonial style homes. They liked the deep window wells found on those structures, which is an added bonus of using Faswall's one foot by two foot blocks. They wanted to finish the interior walls with smooth plaster and the exterior with lap siding, which meant using a building material flexible enough to accept any type of finish.
Once he selected Faswall, Jack went in search of a builder. He wanted someone willing to work with a non-traditional material. He also needed someone with enough attention to detail to build a high-quality home capable of lasting for 300 years.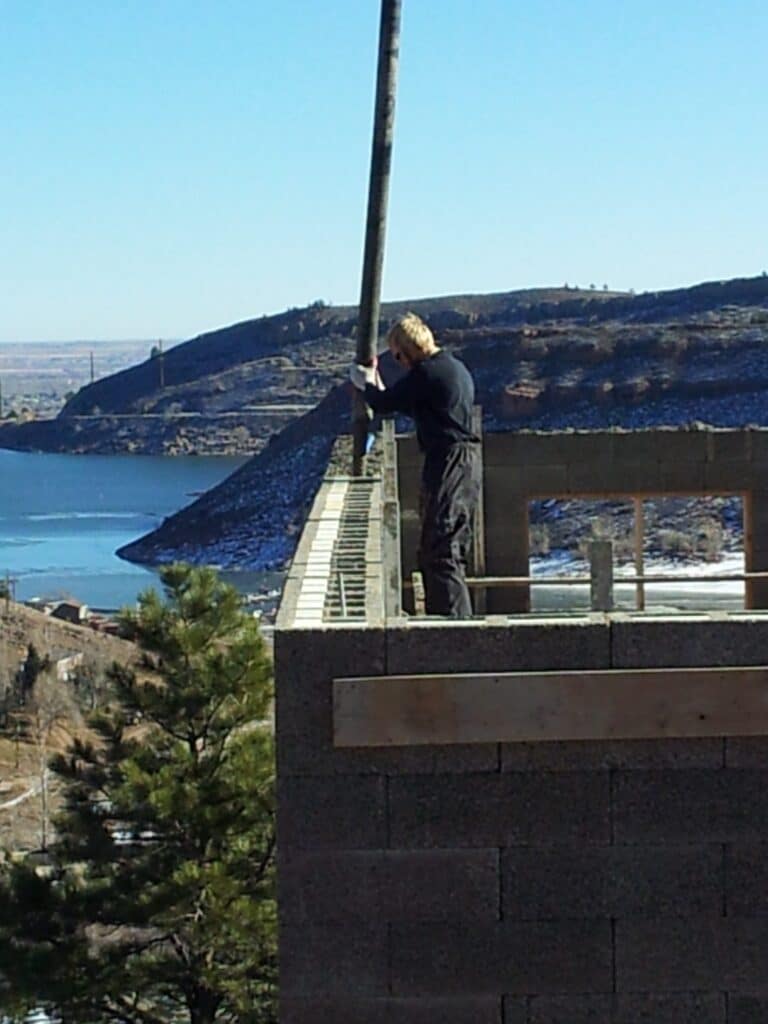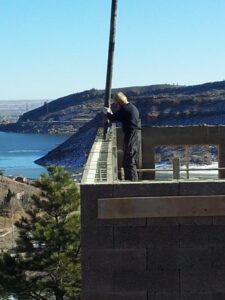 He found both in Matt Doner of Traditional Roots Joinery & Construction in Ft. Collins. Matt is primarily a timber frame builder, but he was excited to combine his carpentry skills with the easy-to-use Faswall blocks.
The home that evolved incorporated the best of both. Jack says one of his favorite features in his Faswall home is the beams crossing the vaulted ceilings. They're made with Northwest fir and locally-sourced Ft. Collins walnut. Jack also likes the elevator, which makes moving people and furniture around the space much easier; the highly efficient windows and sliding glass doors, all of which were manufactured by a Colorado company; and those deep window wells. The home has the exact same orientation as his parent's house, which gives the family views of the reservoir.
Function dictated design for the house, Jack says, and the layout is a great fit with the family's needs. An open floor plan upstairs makes entertaining more enjoyable. A mud room/laundry room/bathroom accommodates muddy dogs and gardeners, as well as sopping boots on snowy days. The Clarks hope to eventually add a wrap-around porch, much like the ones on the Dutch Colonial homes they remember so fondly.
Jack has tracked the home's performance since he moved in and is very pleased with what he's found. Their electricity comes from the rural cooperative, and the home has a propane/heat pump furnace for heating and cooling. "The rural electric bill averages $100 per month, and we use no more than 21 gallons of propane per month," he says. "Our utilities (other than water) average $125 per month for a 3,200 square foot home with three adults living here full time."
Thanks to the insulative value of the Faswall blocks, as well as strategically placed insulation, the home stays comfortable no matter how warm or cool it gets outside. "The thermal mass maintains the inside temperature better than convention builds," he says. "Therefore the HVAC does not have to 'catch up' as much to maintain temperature. When we have 50 degree days and 20 degree nights, the house will lose no more than one to two degrees overnight."
Jack has several pieces of advice for anyone building with Faswall. It's important to look at the whole home when planning for energy efficiency. "Besides picking very efficient heating/cooling equipment, insulate the ground floor slab from the ground below it and the footers," he says. "Consider using varied insulation types according to where the insulation is installed and the clearances required.
"Do not be stingy with glazing," Jack continues. "Look closely at what the window and door frames are made of. Fiberglass is non-conductive and will not warp.  Consider how much sun and what type of sun should pass through the glazing. All heat and light can be controlled to the owner's benefit. Choose a window and door supplier that understands this and can customize products to control the heat loss and gain."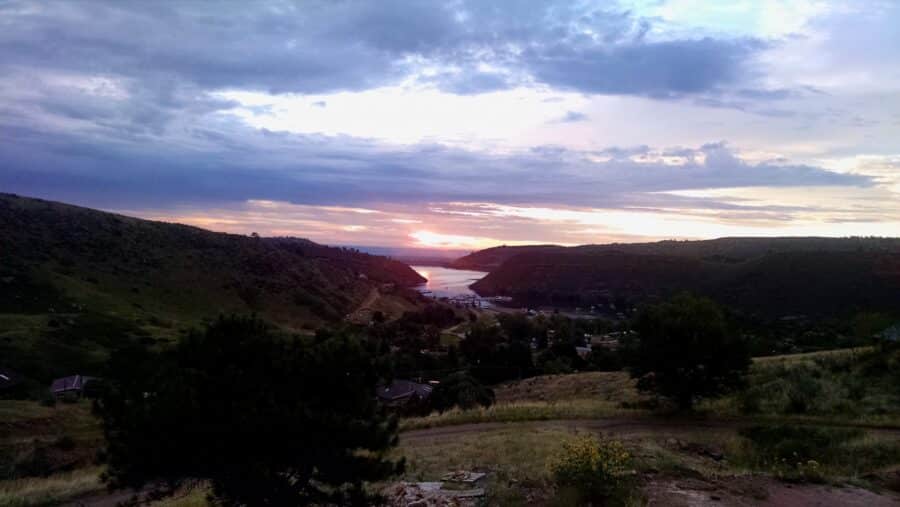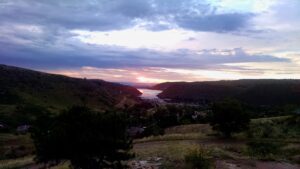 Although Jack didn't build his own home, he has this advice for do it yourself home builders: "It pays to get tricks from Paul or one of his representatives. It will make the job go smoothly."
Would you like to learn more about how Faswall can help you build a high performance home? Whether you're a builder or contractor, architect or engineer, or DIY home builder, we can help. We can also offer advice on using Faswall for high-efficient, high performance, eco-friendly office buildings, outbuildings, warehouses and much more. Please contact us today for more information. If you want more information about Faswall right away, check out our free technical manuals.