Surface Finishing Stucco + Plaster + Siding
Faswall must be coated or faced with a weatherable surface to keep liquid water from penetrating.
Easy, Direct Surfacing Means Faster Finishing, and Fewer Toxins
You can surface finish Faswall® directly on both sides. It makes an excellent substrate for plasters and stuccos — it keys-in on the porous surfaces.  With no need for interior framing or exterior prep, your building will go up faster and easier. It also means that your Faswall® home can be designed to look as beautiful as any other wall construction material— it won't look like a typical concrete block home. Furthermore, this reduces the layers of wall construction materials needed, which means less toxins in your home as compared to conventional wall systems.
Exterior Surface:
Always choose coatings that are vapor permeable
Acceptable air barrier products are: a parge coat of sand and Portland cement, stucco, plaster, dry wall, felt paper, or building wrap membrane products with a high perm rating such as Tyvek®. Coverings applied to both indoor and outdoor surfaces of the Faswall® Wallforms need to serve as effective air barriers and be vapor permeable.
It is recommended that a design professional provide guidance specific to the site in order to ascertain an appropriate weather barrier with adequate flashing so that there is prevention of moisture penetration through the wall and into the interior.
Stucco 
There are many stucco techniques that are compatible with Faswall. It is an excellent substrate for stucco to "key" into. However, it is very important that the stucco system chosen is VAPOR permeable. The hygroscopic quality of the Faswall material must be maintained allowing water vapor to travel through the walls. 
The stucco materials that have these qualities are: 
Cement based stucco

 

Cement based stucco with vapor permeable acrylic modified pigmented finish coat.

 

Lime based stucco

 
NOTE: Stucco has a tendency to crack. Hair line cracking is not detrimental to the Faswall material. It is a dynamic material that dries out readily if small quantities of water were to get into cracking. To minimize cracking, employ a woven fiberglass mesh into the stucco base coat. 
Request our Surface Finishing Technical Manual
Siding
Wrap + Lap or Board and Batten 
In a climate with heavy wind driven rain conditions, a drainage plane such as Dupont™ Tyvek DrainWrap™ can be attached with stainless steel staples directly against Faswall® Wallforms, followed by 2 inch wide furring strips which can be fastened directly onto the Faswall® Wallforms middle webbing with 2 ½ inch self tapping screws (zinc, galvanized, stainless steel, or ceramic coated). Lap siding, or board and batten siding using sheets of fiber cement board can then be installed directly against the furring strips and air gun nailed or screwed. In this protocol an air gap is created which allows any wall-penetrating moisture to quickly drain. Unless exposed to severe weather conditions, the furring strips can be eliminated from this protocol. 
Wood siding
For wood siding applications it is recommended to install a rain screen directly on the Wallforms and utilize furring strips to create an air gap between the back of the siding and the wall of the building. This ensures that condensation will not build behind the siding and cause decay in the siding (Faswall will be unaffected). 
Fiber-Cement Siding
With Fiber Cement siding products, it is recommended to use a felt building paper or a stucco house wrap as a drainage plane. 
Interior Surface:
Plaster Finishes
For inside plaster application, follow the instructions of the manufacturer/supplier of the plaster mix. Where other materials join Faswall® Wallforms, and around doors and windows, a reinforcing fiber mesh should be applied. As in the stucco application, the base coat will require about 20% more material as used for conventional concrete walls. 
Gypsum/Drywall Products
Faswall® Wallforms present a solid surface to fasten to no matter what interior finish is selected for the interior surface of the wall. 
Beyond Beauty: Plaster and Stucco are Natural Winners for Sustainable Walls: Many people love plasters and stucco as sustainable building finishes because they look nice. But the advantages of a plaster and/or stucco for walls instead of paint go far beyond appearances. The ingredients in these finishes are found in nature, and they have been […]
Read More
…I was very impressed with Shelter Work's interest in my project even before a single block was shipped to me. All personnel I came in contact with at the company bent over backwardsto make sure all my questions were answered to my satisfaction. I actually felt that my project was the most important project the company was working on at the time.They worked well with my General Contractor (GC), were very available for any and all questions, from the simple (me) to the more complex questions that my GC required to complete the project, as it was of his first Faswall projects.

"I was also impressed with the fact that the guys from Shelter Works' physically visited our job site to meet with my GC to specifically find out how they could improve the "kit" that is, the bulk customized materials that ship out in bulk for the entire project. Shelter Works was all ears as my GC communicated areas of improvement to the kit in regards to having the required quantity of specific types of block for the corners, the ends, the caps, etc. But the point is they actually made it a point to understand how they can make the project go more smoothly for the builder and listened to the challenges that he faced from the contents of the kit to the challenges of the actual physical construction process…
-Anthony Parks, Three Rivers, California
You'd be surprised at the various types of homes and commercial buildings that can be built with Faswall. Check out some of the recent projects..
Photo Gallery
I Want To Get Started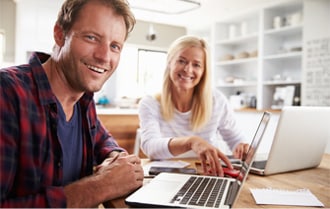 "A lot of standard ICFs are made out of Styrofoam. When you want to stucco, you have to do a whole other procedure for preparing it. With Faswall, after you've poured the wall you can finish them. The surface texture is excellent for plastering. It saves some time and some steps." Plus, he says, his old home in Maine had Styrofoam insulation that attracted ants.
Coleman Pulsifer , California