Raised Bed Garden Kits - Durable GreenBed
These durable, attractive, and non-toxic raised garden bed kits come in eleven different styles and in 1ft and 2ft heights.  Or order Custom raised garden beds.
All non-toxic materials: good for you and your plants.
Assembles quickly with a socket wrench and a screwdriver.
20-30 year expected life.
A beautiful addition to your garden.
Panels can be painted or left naturally grey to lighten with age.
Crafted in Oregon.
Simple & Quick Installation Process
1. Cedar trim kit is precut with doweled joinery and is finished with a natural plant-based penetrating oil.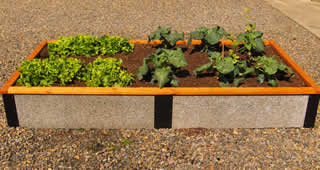 2. Bed is formed from Faswall® panels, a remarkable woodchip/cement composite that lasts for decades and is totally nontoxic.
3. All fasteners are included and all holes are predrilled for fast, accurate installation!
4. Six durable painted metal brackets.
Each kit includes:
Six Faswall® wood/cement panels with predrilled mtg. holes
Six black metal brackets with six stabilizing stakes
Beautiful precut natural oil finished cedar trim kit
All corrosion resistant fasteners and complete, illustrated instructions
Long Lasting Planters
For beautiful, practical Landscape design
Find us at Landscape Online
"We did a lot of research on various green building systems but settled on Faswall. Not only did it seem like the "greenest" technology, but the ease of building compared to other systems seemed like a good choice for an owner/builder. What we didn't expect, but were totally delighted with, was how knowledgable and helpful the people at Faswall were. We couldn't have done it without you!"
-Ted and Donna Havecheck
You'd be surprised at the various types of homes and commercial buildings that can be built with Faswall. Check out some of the recent projects..
Photo Gallery
I Want To Get Started