Testimonials from Faswall® Builders
Read and See What Our Builders Have Experienced & What You Can Expect
(check tabs for videos of customers, builders and architects talking about working with Faswall)
"Building with Faswall remains one of the best choices that we made in our house building process. It was very easy to work with as owner builders. We could build the house at our own pace as the product is much more tolerant about being exposed to the elements. It always laid down straight and true. It makes an ideal surface for finishing with plaster. We chose to do a lime plaster for its vapor permeability. The fact that the Faswall will hold a screw anywhere is also an added bonus. Our house is very energy efficient and because of the thermal mass, it is easy to maintain consistent temperatures. It is cool in the summer and warm in the winter. I also felt very safe and secure in our house and I have told my neighbors that if a big storm or tornado comes, don't hesitate to come knock on our door. Our house is not going anywhere!""  - Mike and Kam Watkins, South Carolina
"Major power outage in North Idaho. We had no heating for 9 hours yesterday - It was 50 MPH wind all day, partly sunny, 41 degrees. Guess how the temperature in our Faswall building changed?  House did not change, garage dropped from 65 to 63. We opened the door to drive the car out and also opened the person door several times.
Needless to say:     WE LOVE OUR FASWALL STRUCTURE!!!
Also, with the 50 MPH winds, gusting to 70 MPH, our building was stable and quiet inside. We were able to sleep, work, etc."
Nathan MacPherson in N Idaho
Builder Mark Maricle
provides background information on characteristics of a Faswall home being built in the Boulder Colorado area

Montana Builder and Faswall Block

Builder Mark Maricle
explains the concept of thermal mass through a quick tour of a Bouder CO home under construction

"We did a lot of research on various green building systems but settled on Faswall. Not only did it seem like the "greenest" technology, but the ease of building compared to other systems seemed like a good choice for an owner/builder. What we didn't expect, but were totally delighted with, was how knowledgable and helpful the people at Faswall were. We couldn't have done it without you!"
-Ted and Donna Havecheck
You'd be surprised at the various types of homes and commercial buildings that can be built with Faswall. Check out some of the recent projects..
Photo Gallery
What is Faswall ICF Block System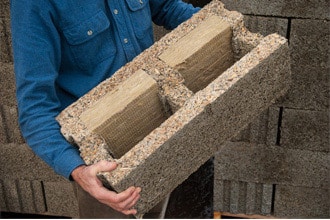 Faswall® is a building system similar to Insulated Concrete From (ICF) Blocks.  But unlike ICFs, Faswall is a non-toxic, healthy building system made with Recycled Materials with a 25-year track record for innovative builders.
Insulated Wood-Chip Cement Blocks with High R-Values
Our wall form system is exceptionally:
healthy
durable
thermally insulating
I Want To Get Started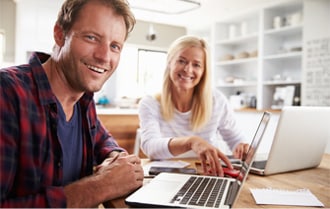 Would You Like to Provide a Testimonial?
These Folks Can Help You Build with Faswall®