Faswall Alternative Applications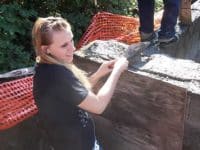 Falls City (OR) High School students recently built a restroom for their athletic Field area out of Faswall.
Read More
Working with Faswall was fast and manageable for these DIY-ers. Rob Story's efficient and affordable ICCF family home project in northwestern Washington is a home and home office designed as a budget-friendly DIY residence. It is finished with beautiful interior lime plaster and exterior stucco. Rob Story is not a builder by trade, but he […]
Read More
Rebuilding in California Fire Zones; Fire Safe Walls When one family in Grass Valley, California, lost their home to fire, they didn't want to rebuild a typical wood-frame home that would be at risk for another fire. They chose composite ICF Faswall Block System. "We wanted to build with an alternative material, because after losing […]
Read More
"I cannot recommend this product enough for anyone seeking a hands-on experience for building or renovating their own home. We used Faswall as our new foundation material for an 1894 Victorian house, and its consistency, stackability and ease of handling and tooling made the project a breeze. No extra cost or wasted material for concrete […]
Read More
Commercial High Performance building with Faswall Natural Composite ICF Blocks.  A sustainable alternative to foam ICF.
Read More
Building a Luxury, Lake Front Home with Faswall Proving that beauty and energy efficiency go hand in hand
Read More
In a nutshell, my experience working with Shelter Works as well as building with Faswall was excellent, exciting, fulfilling and rewarding. My story with Faswall is long and I encourage anyone considering building with Faswall to thoroughly read my testimonial. I built a house, 12 years ago, when we lived on Maui. It was a […]
Read More
A personal blog about building in the California Bay Area with Faswall. http://jonharv.blogspot.com/2011/ "I've been very pleased so far with the ease of assembly and cutting blocks to form a straight and true wall.  The workers, who are skilled in carpentry and to a lesser extend masonry, seem to work with the new construction […]
Read More
Betsy Hunter, Yakima, Washington Read their blog detailing their building experience. "Our new passive solar home will be built with Faswall block. The Faswall material is ideal for this environment and will help keep us cool in the summertime and warm in the winter. It will give us strong, fire-proof walls and a quiet interior… […]
Read More