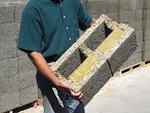 Faswall® Organic Building Material is for Innovative Builders Who Want Simpler, Greener, Healthier, Better Buildings that Will Last for Generations
With a 25-year track record, Faswall® insulated wood chip-cement wall forms are for experts and do-it-yourself builders alike. The organic building materials are simpler, more sustainable, longer-lasting, more affordable, safer, and healthier than traditional materials.



Six Reasons to Build With Faswall® Wall Forms
ICF wood chip-cement organic building materials that offer:
1
SIMPLICITY
Faswall® is a dream come true for do-it-yourself builders. Faswall® blocks are dry stacked — no mortar needed!
3
DURABILITY
The reinforced concrete walls created by Faswall® will last for centuries. Build your legacy home with Faswall®.
5
SAFETY & SECURITY
Faswall® offers superior resistance to fire, deadly wind, and earthquakes so you can sleep safe and sound in your Faswall® home.
2
SUSTAINABILITY
Made with recycled, organic building materials (no chemicals or toxins). Faswall® is the material of choice for green-conscious builders.
4
AFFORDABILITY
The superior insulation properties of Faswall® mean significantly reduced heating and cooling costs. Maintenance costs are also reduced.
6
HEALTH & COMFORT
Faswall® inhibits mold growth, is non-toxic, and is sound-proof. Creates an exceptionally healthy & comfortable indoor environment.
Get 12 Free Downloads Now

Learn more about Faswall® by downloading our installation manual & 11 more downloads*:

*Downloading subscribes you to our mailing list. Your personal information is kept sacred, and it's easy to unsubscribe.
What Faswall® Builders Say About Their Experience
"Not only are the Faswall walls very strong, but also, thermo dynamically this house is a delight. I have never been so comfortable in a house year round."
-Jonathan Reily
"We love our Faswall environment! I say it that way because it's a feeling that has to be experienced to understand the interior Comfort of a Faswall project."
-Gary Steinert
"We love cool in the summer, warm in the winter. Right now it is 47℉ high, 21℉ at night, and the radiant floor heat with solar panels keeps the place at 71℉."
-Janice Reich
Recent Projects Built with Faswall® Organic Building Materials