How To Build With Faswall ICF Blocks
Building with Faswall® insulated concrete form natural building material is particularly appealing for Builders DIY home construction.
Faswall® blocks are dry stacked — no mortar needed!
DIY, Builder Friendly
Simple Steps: Build with Faswall
1. Design for Blocks
2. Level the Foundation
3. Dry Stack the Blocks
4. Set Rebar
5. Integrate Windows and Doors
6. Install Plumbing + Electric
7. Pour Concrete
8. Finish Cut + Nail Directly
9. Direct Finish Surfaces
Building with Faswall Natural Building Material. Step by Step
1. Design for Faswall
Design with Faswall In mind. Plan for block sizes in wall design, length and openings.
2. Level the Grade or build a Foundation
Faswall is excellent for Slab on Grade or Foundations in any type of soil or climate.
3. Stack the Concrete Form Blocks Without Mortar
The Faswall material wall forms (30lbs each, less than half a cement block) are simply stacked on top of each other without mortar. These are held in place by the interlocking tongue-and-groove end design, and walls can be built in any dimension/shape imaginable.
4. Set Rebar
Next, set rebar both horizontally and vertically within the stacked forms prior to filling the cores with concrete. This "post and beam" grid effect makes the concrete form material wall exceptionally strong.
5. Simple to Integrate & Install Windows & Doors
The preferred method is to fasten windows and doors directly into the wall form material. The End Blocks and Half Blocks are designed to build openings as they have smooth ends to which windows can be fastened with screws.
Design with Faswall In mind. Plan for block sizes in wall design, length and openings.
6. Install the Plumbing and Electric as you build
Plumbing & Electrical is readily Integrated
7. Fill the Faswall with Concrete
The Faswall concrete form material blocks are cast from a mixture of K-X Aggregate (mineralized wood chips) and Portland cement. The wall forms are designed as stay-in-place units, which become part of a load-bearing wall only after being filled with reinforced concrete.
8. Finish Cut and Nail Directly
Nail Directly
You can nail and screw directly into Faswall® concrete form material. You can also easily cut Faswall® blocks with carpenter's tools.
Cuts Easily
Electrical wiring can be cut into the walls, or plumbing and electrical can be installed prior to pouring concrete.
Surface Finish on Both Sides
You can surface finish Faswall® concrete form material directly on both sides. It makes an excellent substrate for plasters and stuccos — it keys-in on the porous surfaces.
Faswall® Block Structure
The wall forms are supplied in three main types for building your entire project: a Standard Wall Form, a Corner Wall Form and an AP Wall Form.    More About Block Structure

Faswall Installation Guidelines
We did a lot of research on various green building systems but settled on Faswall. Not only did it seem like the "greenest" technology, but the ease of building compared to other systems seemed like a good choice for an owner/builder. What we didn't expect, but were totally delighted with, was how knowledgable and helpful the people at Faswall were. We couldn't have done it without you!
-Ted and Donna Havecheck
You'd be surprised at the various types of homes and commercial buildings that can be built with Faswall. Check out some of the recent projects..
Photo Gallery
I Want To Get Started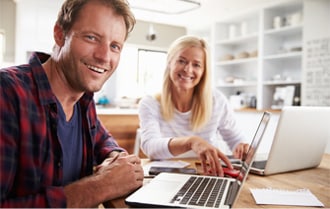 Video not specified. Please select one to display.