Faswall Experienced Engineering Consultants
We recommend these companies and individuals who have worked with Faswall® ICCF Blocks Wall Systems. It is your responsibility to identify and contract with the professional support you need for design, engineering and building. These individuals are not affiliated with Faswall, and we do not receive any compensation for referrals.
Faswall Premier Partners - Engineers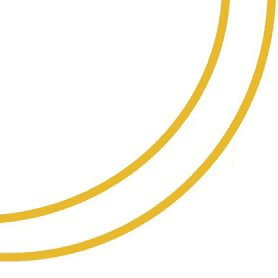 Grummel Engineering, LLC
Jesse Wolfe, PE
920 SW 3rd Avenue - Suite 200 - Portland, OR 97204
jesse@grummelengineering.com
www.grummelengineering.com
503-244-7014 x103
States of License/Service and special consulting services
OR, WA, CA, ID, CO, NE, TX, FL, MD, RI
Value Engineering and buildability for Faswall
Conditioned Crawlspaces w/ Faswall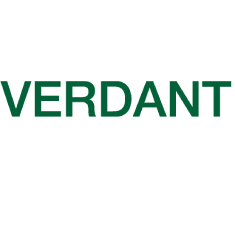 Verdant Structural Engineers (formerly KDSE)
Anthony Dente, PE, LEED AP and Kelsey Foster
1101 8th Street #180 Berkeley, CA 94710
anthony@verdantstructural.com
kelsey@verdantstructural.com
www.verdantstructural.com
(510) 528-5394 – 103
States of Structural Engineering License/Service and special consulting services
CA, WA, OR, CO, NV, NM, HI, UT, AL, ID
Would go through the process for another state for right project.
Life Cycle Assessment / Embodied Carbon Quantification Services.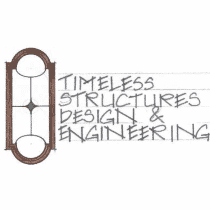 Timeless Structures Design & Engineering, PLLC
Olympia, WA
Mark Bock, P.E., S.E. (WA)
info@timelessde.com
States of Structural Engineering License/Service: WA
WA state energy code compliance consulting
WA, ID, MT Faswall specific design and conditioned crawlspace consulting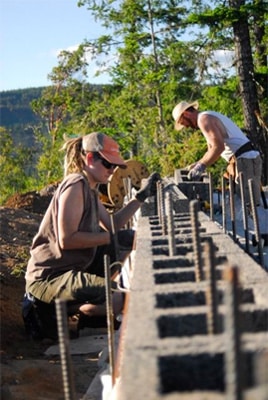 Experienced Faswall Engineers
Faswall Engineering Consultants
California
Platinum Engineering Solutions Inc.
Madera, CA 93638-9469
559-439-0500
www.platinumengineering.com
Colorado
Lucy Hunter, P.E.
Odisea LLC: Civil and Structural Engineering
970-527-9540
lucy@odiseanet.com
www.odiseanet.com
States of Professional Engineering License/Service:
AZ, CA, CO, OR, UT
Ian Smith, P.E.
Lopez Smolens Associates
2400 Central Ave., A-1 North
Boulder, CO 80301
303-447-2813
Idaho
Brent Cornelison
BC Engineers
Hayden, ID
208-772-8424
brent@bcengineersinc.com
www.bcengineersinc.com
Montana
Beaudette Consulting Engineers
131 West Main
Missoula, MT 59802
406-721-7315
bce@bceweb.com
www.bceweb.com
New Mexico
Natural and Green Consultants with Druc Engineering
Druc Engineering LLC
Santa Fe, NM 87501
505-983-4992
Oregon
Chuck DuFault
Wood Chuck Engineering
541-357-5532
woodchuckengr@gmail.com
www.woodchuckengineering.com
Gary Froehlich, P.E.
541-484-9080
garyf@mortierang.com
Scott Ratterman, PE.
Eclipse Engineering P.C.
503-395 1229
sratterman@eeimt.com
www.eclipse-engineering.com
States of Structural Engineering License/Service:
All 50 states and
Most Canadian Provinces
Washington
Basri Basri, P.E. S.E.
b2 Structural Engineers
425-296-2993 (o)
425-318-0031 (c)
basri@b2engineers.com
www.b2engineers.com
States of Structural Engineering License/Service:
AK, CA, ID, IL, NV, OR, WA
Mark Bock, Principle Engineer/Designer
Timeless Structures Design & Engineering, PLLC
360-819-8687
info@timelessde.com
www.timelessde.com
States of Structural Engineering License/Service:
OR, WA
David Bradley
Bradley Engineering, Inc.
360-752-5795
david@bradleyengineeringinc.com
www.bradleyengineeringinc.com
States of Structural Engineering License/Service:
WA
"We did a lot of research on various green building systems but settled on Faswall. Not only did it seem like the "greenest" technology, but the ease of building compared to other systems seemed like a good choice for an owner/builder. What we didn't expect, but were totally delighted with, was how knowledgable and helpful the people at Faswall were. We couldn't have done it without you!"
-Ted and Donna Havecheck
You'd be surprised at the various types of homes and commercial buildings that can be built with Faswall. Check out some of the recent projects..
Photo Gallery
I Want To Get Started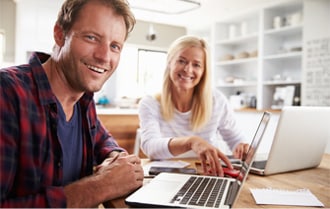 What is Faswall ICF Block System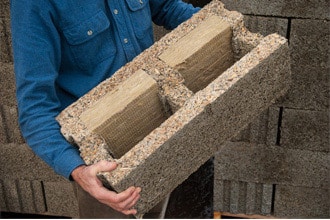 Faswall® is a building system similar to Insulated Concrete From (ICF) Blocks.  But unlike ICFs, Faswall is a non-toxic, healthy building system made with Recycled Materials with a 25-year track record for innovative builders.
Insulated Wood-Chip Cement Blocks with High R-Values
Our wall form system is exceptionally:
healthy
durable
thermally insulating
These Folks Can Help You Build with Faswall®
Designers/Architects
Please Check our Builder List for Some Design/Build Options
Call us for help in finding a Designer for your building.
Six Reasons to Build with Faswall Wall Forms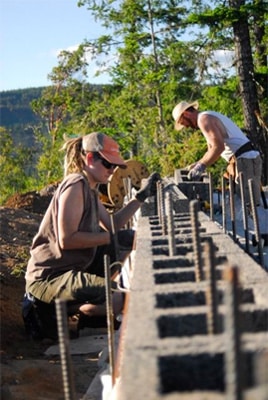 Simplicity
Faswall® is a dream come true for do-it-yourself builders. Faswall® blocks are dry stacked — no mortar needed!

Durability
The reinforced concrete walls created by Faswall® will last for centuries. Build your legacy home with Faswall®.

Safety & Security
Faswall® offers superior resistance to fire, deadly wind, and earthquakes so you can sleep safe and sound in your Faswall® home.

Sustainability
Made with recycled, organic building materials (no chemicals or toxins). Faswall® is the material of choice for green-conscious builders.

Affordability
The superior insulation properties of Faswall® mean significantly reduced heating and cooling costs. Maintenance costs are also reduced.

Health & Comfort
Faswall® inhibits mold growth, is non-toxic, and is sound-proof. Creates an exceptionally healthy & comfortable indoor environment.
Recent Projects Built with Faswall® Organic Building Materials