Thermal Mass for Heat Retention

When Susan Wyman of Gunnison Gardens in Colorado contacted us last year about building a greenhouse with Faswall's highly insulated block forms, we could immediately see the benefit of using our eco ICFs for the project. Greenhouses work by enhancing solar gain. Add the heat-retaining thermal mass and Faswall's insulating blocks, and it seemed likely that this greenhouse would work better than most.
Susan lives in a part of the world where heat retention is particularly important. Gunnison, Colorado is one of the five coldest cities in the United States. "When we got frost on the 14th of July, I didn't know if that was the first frost or last frost," she says.
Because of that, Gunnison might seem like an unlikely place to garden year-round. But that's what Gunnison Gardens is doing. The farm is in its third year of growing plants, vegetables and cold-hardy vegetables for local residents. (We're also delighted that they're a dealer for Durable GreenBed, our raised gardening bed kits.) They hope to eventually become a source of sustainably-grown food for the region.
"The U.S. is headed toward a low-energy future," Susan says. "Since I think we're going to be concerned about food security in the future as well, we have to look at how we're going to feed our communities throughout the winter without having to rely on fossil fuel energy."
That's why a greenhouse was so important to Susan. But she didn't want to build one that require fossil fuels to operate. "I was looking to build a cold climate greenhouse or four-season greenhouse," she says. "A lot of folks have built these structures in Colorado and Minnesota and other places. They're often done with poured concrete. I was looking for a more environmentally-friendly DIY project."
Susan researched cold climate and four-season greenhouses online and by reading books such as The Forest Garden Greenhouse (which she highly recommends). Then she designed a structure that fit Gunnison Gardens' needs.
Next she searched for the right materials to build the greenhouse with. When she found Faswall, an eco ICF wall form, she was impressed by the blocks' very high thermal mass and recycled material content. The fact that the product was easy to use was also a plus; Gunnison Gardens employees were going to build the greenhouse, and most of them had little to no construction experience.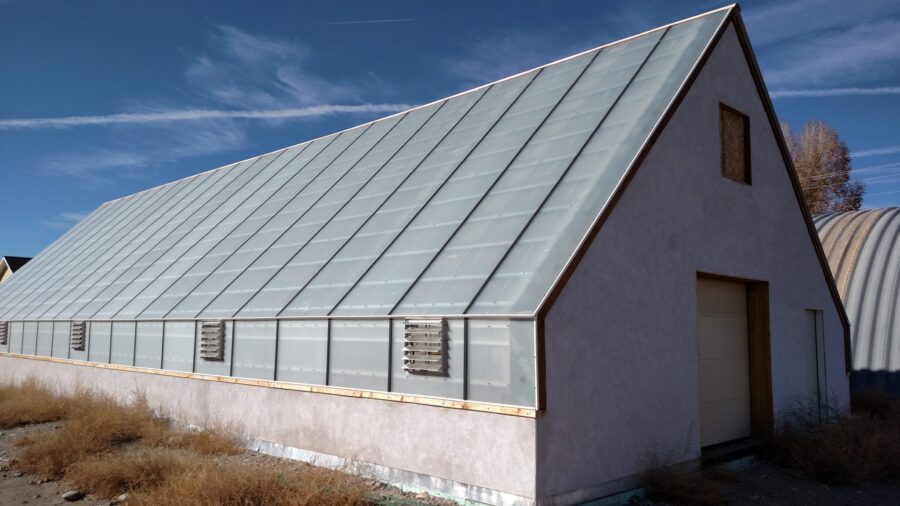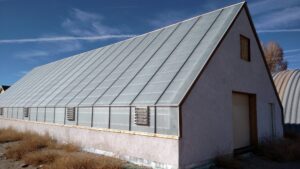 One of the first and most important steps in creating the greenhouse was building a climate battery. Also known as a subterranean heating and cooling system, a climate battery is basically a net zero energy heating system. To build the climate battery, Susan and her staff dug five feet into the ground and laid tubes made from perforated and corrugated HDPE. A fan would force warm air from the greenhouse into the ground, where it would warm the soil and create a good growing environment for plants. At night, any warm air stored in the earth could be pushed back into the greenhouse to keep the structure warm.
"A lot of our plants are growing in the soil in the floor of the greenhouse," Susan says. "So keeping that soil warm is critical for plant health."
To capture the solar energy needed to provide that warmth, the team at Gunnison Gardens built a wall with three layers of polycarbonate plastic on the south-facing side. The remaining walls were constructed from Faswall. The greenhouse was finished with spray-in insulation on the north side of the metal roof.
"The block itself is very easy to understand," Susan says of Faswall. After one day of coaching from Faswall construction expert Mark Maricle, her staff was able to put up the remaining walls with little assistance.
The finished structure is around 30 feet wide, 80 feet long and 19 feet tall. "So far it's gotten to minus 15 degrees Fahrenheit outside and it's never frozen inside the greenhouse," Susan reports. "It stays above 40 degrees.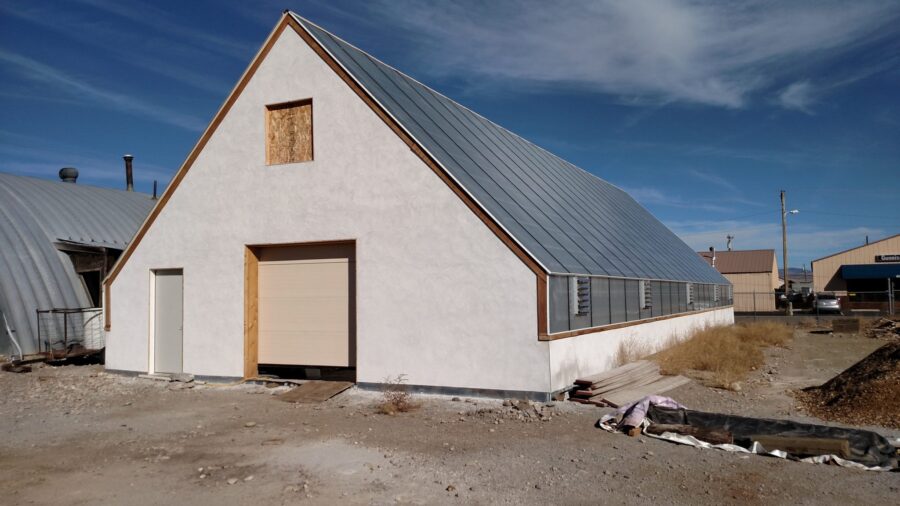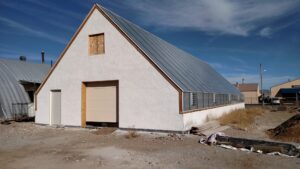 "The structure works in part because Colorado is really sunny," Susan continues. "The solar gain in phenomenal." In addition, "the mass of that thermal wall is amazing in terms of maintaining heat storage and release during the night."
2016 was the first year Gunnison Gardens used the new greenhouse. Susan was able to grow warm weather crops like tomatoes, cucumbers and melons into the fall. The strawberries are still going. This year she'll start seedlings in March and cultivate foods such as broccoli, cauliflower and sweet potatoes later in the year.
For farmers, garden center, homesteaders or homeowners thinking about building a greenhouse, Susan has this advice: "Do your homework up front, build it to last, and crunch your numbers. Make sure it makes financial sense."
Following those steps created a positive result for Gunnison Gardens. "I'm really pleased with the outcome," Susan says. "It was a big undertaking for us, but I'm convinced this is what we need for the long term."
If you'd like more information about using Faswall for a greenhouse, storage building, home, office or a project of your own design, please contact us