No special tools required!

Use wood saws and other tools on Faswall® for easy building.
Faswall looks like cement, but cuts almost like wood. No special tools are required to cut or fasten to these sustainably made ICF blocks. The best of all worlds. Dry stacking makes them clean and easy to use.
Tools and Materials needed to install Faswall®
Faswall is worked with standard Tools:
- Circular saw or miter saw 7" – 12" diameter with carbide blades for specialty cutting.
- Reciprocating saw with 12"-16" pruning blade for rough cutting the Wallforms.
- Electric chain saw is very useful.
- Electric rotary sander/grinder to level out small irregularities.
- Rubber mallet for positioning wall forms prior to filling is an essential tool.
- Cup Bits for drilling holes for ledger boards
- Cordless drill and appropriate selection of bits for driving fasteners.
- Level, string, plumb bob to assure a plumb and level wall.
- Adequate moveable set of scaffolding system in proportion to the job
- Rebar bending, fastening, and cutting equipment
WARNING: Protect eyes with safety glasses and mouth & nose with dust mask when
cutting Faswall® forms!
Materials:
- Wood: For temporary wood bucks (frames) at each opening use 2x10 lumber for the
sides and header and two 2x4's on edge for the sill. 2x lumber or ply wood is needed
to form corner boards at wall corners.
- Plywood; 4' x 8' sheets to be used to fabricate temporary strengthening cover plates
and coarse threaded fasteners (#9 x 3" deck screws) for applying to weakened areas
of the wall or cut/altered block.
- Wood shims for occasional leveling of courses (usually not necessary). Plastic shims
for leveling the first course if that approach is selected
- Fasteners; coated deck screws. #9 x 3" and #9 x 3.5" for fastening corner units, for
modifying wallforms, for fastening bucks and stabilizing plywood to the wall forms.
- Mortar mix (as the first row may be laid in mortar). A professional mason is best
qualified to do this, since it is very important that the first row be perfectly level to
build up the wall.
- Construction adhesive such as "Concrete Repair" (gray), Polyurethane Concrete &
Masonry Sealant (gray), "Liquid Nails", or nonexpanding urethane foam to fill small
gaps or secure a wallform that has been cut. Such adhesives should be used only as a
supplement to the patching
"We did a lot of research on various green building systems but settled on Faswall. Not only did it seem like the "greenest" technology, but the ease of building compared to other systems seemed like a good choice for an owner/builder. What we didn't expect, but were totally delighted with, was how knowledgable and helpful the people at Faswall were. We couldn't have done it without you!"
-Ted and Donna Havecheck
You'd be surprised at the various types of homes and commercial buildings that can be built with Faswall. Check out some of the recent projects..
Photo Gallery
I Want To Get Started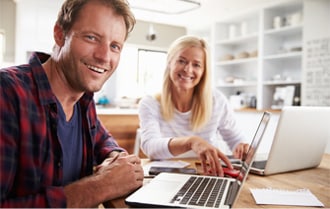 What is Faswall ICF Block System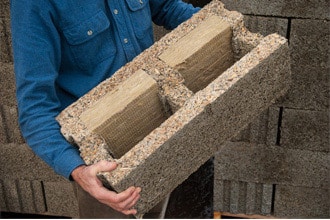 Faswall® is a building system similar to Insulated Concrete From (ICF) Blocks.  But unlike ICFs, Faswall is a non-toxic, healthy building system made with Recycled Materials with a 25-year track record for innovative builders.
Insulated Wood-Chip Cement Blocks with High R-Values
Our wall form system is exceptionally:
healthy
durable
thermally insulating
Six Reasons to Build with Faswall Wall Forms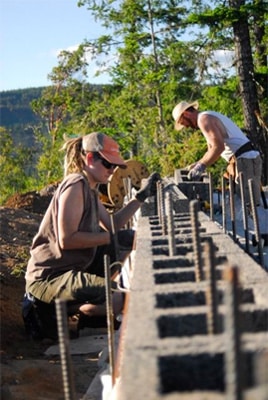 Simplicity
Faswall® is a dream come true for do-it-yourself builders. Faswall® blocks are dry stacked — no mortar needed!

Durability
The reinforced concrete walls created by Faswall® will last for centuries. Build your legacy home with Faswall®.

Safety & Security
Faswall® offers superior resistance to fire, deadly wind, and earthquakes so you can sleep safe and sound in your Faswall® home.

Sustainability
Made with recycled, organic building materials (no chemicals or toxins). Faswall® is the material of choice for green-conscious builders.

Affordability
The superior insulation properties of Faswall® mean significantly reduced heating and cooling costs. Maintenance costs are also reduced.

Health & Comfort
Faswall® inhibits mold growth, is non-toxic, and is sound-proof. Creates an exceptionally healthy & comfortable indoor environment.
Recent Projects Built with Faswall® Organic Building Materials