Fire Resistant Building Materials
The fire rating of Faswall® wall construction materials is 4 hours with zero flame spread and no smoke development (ASTM C-119-88, E-84-89a; test done without insulation inserts).
No Material makes a "Fire-Proof Home", but Faswall Walls come close.
Faswall® walls cannot sustain a fire, and there is no release of toxic smoke from Faswall® walls during a fire.
Faswall® customers are providing their families and businesses a security that cannot be achieved except through building concrete bunkers, adobe, or clay in-fill structures.
Learn more about Builders Using Faswall in Fire Areas:
A home of one of our builders sustained an internal fire, which destroyed the inside belongings. But the wall system endured, making it possible to rebuild with the original Faswall® walls intact.
Extremely Durable - 300 year walls.
But there's another reason building with Faswall green building blocks is a great idea. They make homes that are extremely durable. The blocks are very strong and create structures that can easily stand for hundreds of years. Termites, carpenter ants and other pests have a hard time eating into them because the cement outer layer completely impregnated the blocks with a mineralized coating.
Faswall green building blocks are made with a special blend of wood and concrete. These 100% organic (and 60% recycled) materials make it an ideal building product for many reasons. Faswall creates homes, offices, warehouses and other buildings that are extremely energy efficient. Faswall green building blocks are a great place to begin if you want a home with superior indoor air quality. Their ability to resist mold and mildew make them ideal for wine storage, beer breweries and many other uses.
Faswall is fire resistant - 4 Hour Fire Rating
Faswall® block cannot burn or melt,
Unlike Foam insulated concrete forms or conventional stick-framed walls.
Fire Concerns lead California Faswall Customer to do his own testing
In the western United States and Canada, where much of the region is in a historic drought, we are very concerned about forest fires. John and Patti O'Connell, who were interested in building a Faswall home, were also concerned about the fire resistance of the blocks. So John did his own unscientific test, which you can see in this video.
Basically, John took a propane torch and held the flame directly against a Faswall block for two minutes. The direct heat burned a tiny hole in the block, and made the insulating insert in the block smoke a little bit, but it didn't catch on fire. In fact, at the end of the test, John was able to lay his hand on top of the block because it had barely gotten warm.
"I don't think you have to worry about forest fires," he says. Especially since, as he says a moment later, "This is obviously a hell of a lot more heat than any forest fire is going to deliver."
FEMA Home Builder's Guide to Construction in Wildfire Zones
Technical Fact Sheet Series Fema P-737 September 2008
You'd be surprised at the various types of homes and commercial buildings that can be built with Faswall. Check out some of the recent projects..
Photo Gallery
I Want To Get Started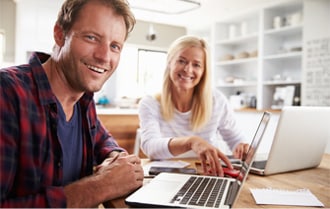 Santa Rosa Fire Resistant Building
We talk to a DIY homeowner, building a European style villa in Santa Rosa, California, about his experience working with Faswall block and discuss how Faswall's fire resistant properties, (RH4 four-hour fire rating) can help affected homeowners rebuild after the October 2017 wildfires.