What Is Faswall ICF Block System?
The Building Material of Choice for Innovative, Green Builders
Sustainable Eco-Friendly Building Materials for 

Walls and Foundations
Faswall® is similar to Insulated Concrete Form (ICF) Blocks.  It is a composite ICCF Block, all natural.
(see our comparison table of Faswall vs ICF Blocks)
Faswall is a non-toxic healthy building system made with recycled materials
with a 30-year track record for innovative builders.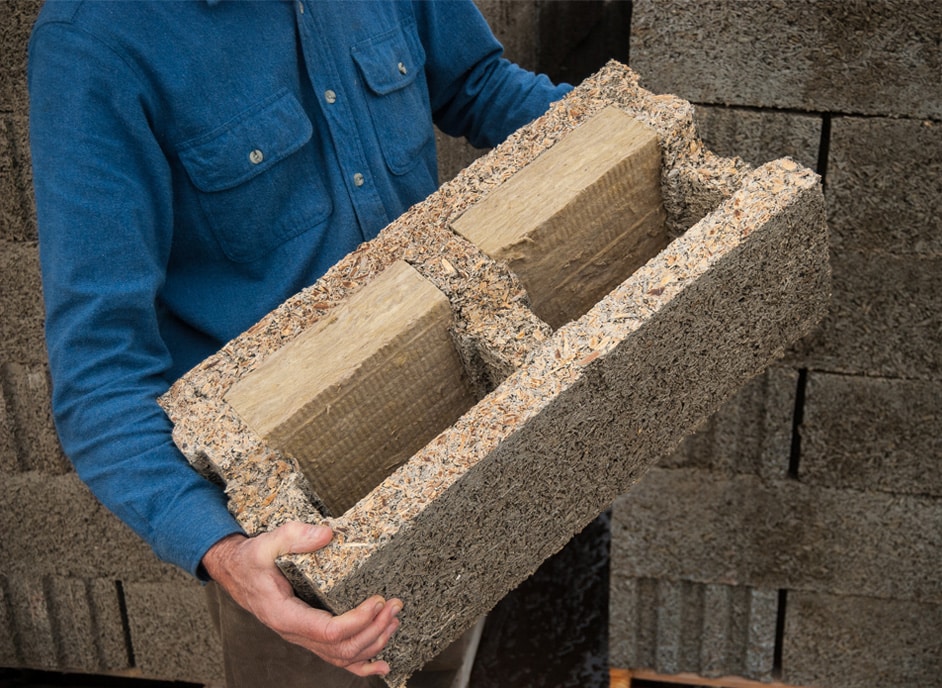 Compare Faswall to Framing and Traditional ICF Construction
Properties

Faswall

Traditional
Foam ICF
Standard
Wood
Framing

High Thermal Mass

Vapor Permeable for Mold-Free Living

High Recycled Content

Depends

Excellent Insulative Qualities

Quiet

200-Year Durability

Depends

Non- Toxic

4-Hour Fire Rating

Labor- Intensive Rating (1-5)

2
2.5
1

Do-It- Yourself Rating (1-5)

1
3
3
A Green Building System for Sustainability, Health, Durability, & Simplicity
Ideal for Walls, Foundations, Basements, Out-buildings and Commercial
Our customers confirm that Faswall's amazing array of features and benefits creates an unmatched level of indoor health and comfort with minimal building energy usage.
Comfortable interior living space as both humidity and temperature remains constant.

Regulate Humidity with Breathable Properties
Faswall® regulates the relative humidity or moisture content of a room. The cement wood-fiber content of Faswall is vapor permeable and free-draining by nature, which means it eliminates moisture and mold problems.
High Thermal Mass results in LOWER energy bills.
Thermal mass is a very real benefit of the Faswall® green building system.  The mass stored inside the 12-inch wide walls enhances the already exceptional R-value. It significantly reduces the energy needed to heat and cool buildings.
You'd be surprised at the various types of homes and commercial buildings that can be built with Faswall. Check out some of the recent projects..
Photo Gallery
I Want To Get Started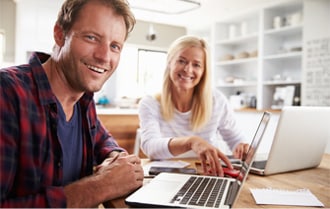 Faswall Blocks -  The Basics
Easy to Design, Easy to Build

The wall form blocks are manufactured in 24″-long modular units to aid architects and designers. They are designed to be under 30 pounds to aid installers.
Simply stack the wall forms on top of one another without mortar. The interlocking tongue-and-groove end design keeps the wall forms in place.
Rebar is set both horizontally and vertically within the stacked forms prior to filling the cores with concrete. This creates a "post and beam" grid effect, which makes the wall exceptionally strong.
Efficient, Comfortable Living
Essentially, Faswall® is a efficient method of building a reinforced concrete wall with built-in thermal, acoustical, and fire protection.The eco insulated building system wall forms can be used above-grade, below-grade, for commercial or residential applications.
See our pictures and videos of Faswall buildings and installation.
Insulated Wood-Chip Cement Blocks with High Insulating Values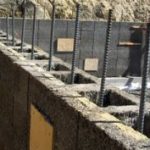 The insulated wood chip-cement
wall form system is exceptionally
Healthy
Durable
Insulating
"We did a lot of research on various green building systems but settled on Faswall. Not only did it seem like the "greenest" technology, but the ease of building compared to other systems seemed like a good choice for an owner/builder. What we didn't expect, but were totally delighted with, was how knowledgable and helpful the people at Faswall were. We couldn't have done it without you!"
-Ted and Donna Havecheck
Faswall History
After World War II, amidst the rubble and destruction, a way was discovered to take the huge volumes of wood waste, grind it into chips, mineralize the chips to neutralize the natural sugars that cause rot, and bond them to cement to form a building block. This is the genesis of the Faswall® ICF Wall Form.
Since then, tens of thousands of homes, commercial buildings, and many other projects have been built in North America, Europe, and Asia with this remarkable green building system. This remains one of the preferred methods of building in Europe. It has been available in North America for thirty years.
In 1987, Hans and Leni Walter of K-X Faswall International Corp. advanced the product with a patented mineralization process that allows virtually any wood or cellulose fiber to be bonded to cement.
In 2008, ShelterWorks Ltd. was assignedthe proprietary Faswall® wood chip-cement ICF technology and its trademarks in its entirety. ShelterWorks is the exclusive manufacturer of Faswall®.
Six Reasons to Build with Faswall Wall Forms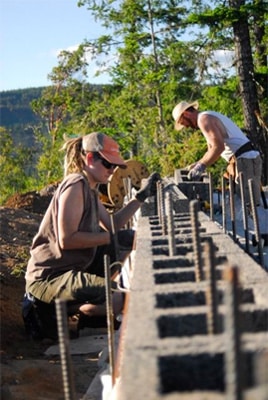 Simplicity
Faswall® is a dream come true for do-it-yourself builders. Faswall® blocks are dry stacked — no mortar needed!

Durability
The reinforced concrete walls created by Faswall® will last for centuries. Build your legacy home with Faswall®.

Safety & Security
Faswall® offers superior resistance to fire, deadly wind, and earthquakes so you can sleep safe and sound in your Faswall® home.

Sustainability
Made with recycled, organic building materials (no chemicals or toxins). Faswall® is the material of choice for green-conscious builders.

Affordability
The superior insulation properties of Faswall® mean significantly reduced heating and cooling costs. Maintenance costs are also reduced.

Health & Comfort
Faswall® inhibits mold growth, is non-toxic, and is sound-proof. Creates an exceptionally healthy & comfortable indoor environment.