Get Started with Faswall
With 25 years of experience, we know everyone starts at a slight different place in the learning process.  Our goal is to get you the information you need, when you need it.  If you need more, sooner, or different information, PLEASE
On your GET STARTED downloads page, We'll give you the option to request our full installation guide and technical manual, or get a budgetary quote, or have us review your plans.
Get Started!
After you fill out this form you will have access to several FREE downloads that will get you started on how to build with Faswall®.
"We did a lot of research on various green building systems but settled on Faswall. Not only did it seem like the "greenest" technology, but the ease of building compared to other systems seemed like a good choice for an owner/builder. What we didn't expect, but were totally delighted with, was how knowledgable and helpful the people at Faswall were. We couldn't have done it without you!"
-Ted and Donna Havecheck
You'd be surprised at the various types of homes and commercial buildings that can be built with Faswall. Check out some of the recent projects..
Photo Gallery
What is Faswall ICF Block System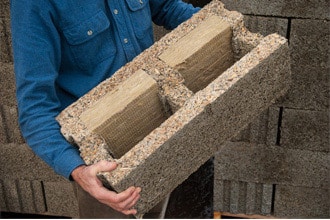 Faswall® is a building system similar to Insulated Concrete From (ICF) Blocks.  But unlike ICFs, Faswall is a non-toxic, healthy building system made with Recycled Materials with a 25-year track record for innovative builders.
Insulated Wood-Chip Cement Blocks with High R-Values
Our wall form system is exceptionally:
healthy
durable
thermally insulating
Recent Projects Built with Faswall® Organic Building Materials