As Featured in the Wine Anthem
Incorporating sustainable design into wineries not only works to reflect the values of many winemakers and vi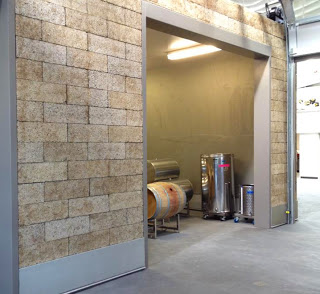 neyard owners, but it makes fiscal sense in the long run, like lower energy costs to control temperatures, natural daylighting to keep electricity bills lower. But the embodied energy in existing construction is often the most compelling reason to choose remodeling over new construction.  "For this building made predominantly of steel, we saved enough embodied energy in the steel alone to power 70 average Seattle homes for a year," said Chauncey.
And thus, a very extensive gutting and reworking of the former storage facility began. The transformation, both on the interior and the exterior, is nothing short of remarkable.
Beyond the tasting room, fermentation and barrel rooms, laboratory, classrooms, and demonstration kitchen complement the program's three certification options: Wine Making, Wine Marketing & Sales, and Food & Wine Pairing. The students are learning important elements of the winemaking industry in a fully-functioning, start-to-finish process winery. And with the school's history of crafting award-winning wine year after year in its cramped facility across campus, Washington wine lovers should have high expectations for the Northwest Wine Academy's upcoming vintages, which will be crushed, fermented, aged, blended, bottled, and sold at this new winery.
Faswall chosen for temperature regulation, energy savings and breathability
From the tasting room, looking through glass overhead garage-style doors into the corridor and production area, two barrel rooms are tucked away, insulated from temperature swings. The walls are made of Faswall, a sustainable product of chipped-up wood pallets mixed with concrete and formed into giant building blocks. These insulated blocks are covered with plaster on the inside of the barrel room to assist with temperature control, and the outside of the blocks are trimmed so that the individual splinters of wood are revealed.
http://www.nwwineanthem.com/2013/09/its-new-school-not-old-school-at-nw.html