Click the tabs to read testimonials from DIY builders, contractors, and architects:
---
---
---
---
---
---
---
Rob Story, Chimacum, Washington
In a nutshell, my experience working with Shelter Works as well as building with Faswall was excellent, exciting, fulfilling and rewarding.

My story with Faswall is long and I encourage anyone considering building with Faswall to thoroughly read my testimonial.

I built a house, 12 years ago, when we lived on Maui. It was a simple house, no heating or cooling, lots of humidity, rain, rot, mold, etc.

When we moved to the North West and decided to build again I was very sensitive to climatic issues related to long term structural integrity and the comfort we would experience as a family. Even though I had built before I was not an expert, nor did I have the money to hire a General Contractor to build my house. One thing I did have on my side the was prior experience of building and living in my own home. It was a very satisfying and rewarding process.

As my wife and I considered what type of home to build, design wise, we also had to decide what to build with. Since we were thin blooded from the tropics, our number one requirement was WARMTH. We also had and still have deep interests in economic viability (can we afford it), low toxicity, low environmental impact, longevity of structural integrity, energy efficiency, ease of building, aesthetics, uniqueness, on and on.

Sometimes we sat back and thought our list of requirements was not realistic. As we continued our designs, re-designs, re-re-designs I kept asking questions of builders, reading building books and wondering what type of materials to build with: timber frame, stick frame, straw bale, manufactured, Rastra, etc, etc , etc.

In my universe I had firm wants with the materials I was going to use: no drywall, no foam, no plastic vapor barrier, no crawl space, no glass insulation with formaldehyde.

One day I ran in to a farmer friend here in Chimacum who did some neat, thoughtful construction and just built his own house. So I asked Keith if I could come over and pick his brain, trade him a box of apples for some information. He showed me his house, which was built out of Rastra block. It was very nice. As we were talking he shared some of the things he did not like about the Rastra: the walls don't hold screws well, foam in them and the blocks weighed about 80 lbs each. Je went on to tell me there was this really interested product called Faswall that was now being produced in Oregon. When he was considering building his house, Faswall was being produced on the East coast and it was cost prohibitive to get it here. If he was building right now, he would buy Faswall in a heartbeat.

Luck was on my side because a local family was building with Faswall, the first ones in the neighborhood. So I called them up and went to have a look. The person was a first time builder and shared with me how great the Shelter Works people were and how easy the product was to work with. I ended up helping him stucco his place a few months later.

Armed with my list of wants I called Shelter Works and started asking questions, lots of them, The fine folks there took ample time with me and answered my questions. I have worked in customer service for 30 years and can appreciate it when someone takes the time I need to get my answers. After all, I am about to invest my life savings!

As it became clear to me that Faswall and Shelter Works was the way I wanted to go, my wife and I scrapped our design and did our last re-design using Shelter Works suggestions which helped lessen our materials usage and save some $.

In our situation we decided to build two separate single story structures: a 1,200 sq ft house and a 1,000 sq ft office. Both structures are poured slab with in floor heat, 50 year metal roof, stuccoed outside and plastered inside.

Once our design was complete, Paul with Shelter Works helped with our take off (block count), we placed our order and away we went.

Everything went great. Our blocks came right on schedule, block counts were accurate, telephone support was available and the material quality was very consistent.

I was very surprised how fast the structures went up. Once the slabs were poured we began stacking blocks. It took four of two weeks to stack, brace, plum and pour both structures. Each building took 5 days from start to finish which included laying all the electrical conduit and building all the door and window bucks (opening supports).

We recently applied the exterior stucco and the plaster inside the house. I love the fact that we have deep window sills inside because it has a straw bale look and feel. We have over wintered in the smaller building and the heat retention has been great. We sit inside as the NW winds howl in the winter but we are cozy and feel safely contained in our strong and sturdy home.

People come by and marvel at our place. It is simple in design but people really love it and ask about it often. I, for one, am happy to tell people about it because I really feel that we made the right decision in many ways. There is not another material I feel would serve us better in the long run.

I am working to get some good photos of our place so people who read this can see some of what I am talking about. I am also happy to chat with anyone considering building with Faswall.

Thanks for taking the time to read this and I hope it is helpful.
-Rob Story
---
Jonathan Reily, Hurricane Katrina Survivor, Louisiana
February 21, 2006

I am writing this letter as a testimony of how great my experience has been with your FASWALL product.

I live in southern Louisiana about 40 miles north of New Orleans. When Hurricane Katrina was approaching the LA coast last August I chose to stay in my house because I had about seven of my friends who had evacuated from New Orleans come stay with me.

I finished building this house about six years ago and this is the first direct hit from a hurricane that we have endured. All the exterior walls in this house are constructed of your FASWALL blocks. We used the recommended construction method for the installation which included pouring the channels inside the blocks with concrete and rebar.

As Katrina bore down on the LA coast we were all along for the ride. It was hard to tell the severity of the storm as it was happening despite the 130 mph winds because the house was so quite. It felt like a real fortress and it was not until it was all over that we realized the level of destruction outside. We had a total of approximately 65 large trees down on the 20 acres, but fortunately none on any of the houses.

As I reviewed the house there was no damage what-so-ever. The metal roof where it connected to the top of the faswall blocks had no movement at all.

We are not in an area that is subject to flooding so we did not get any water like the low lying areas of Mandeville and New Orleans, etc. I have never had any water intrusion into the house but this is Louisiana and despite the humidity I have never had any mold problems. The house is never damp feeling like concrete houses can get in the winter. The breath ability of the walls seems to condition the air and keep it drier inside.


Not only are the Faswall walls very strong, but also, thermo dynamically this house is a delight. I only have my subjective experience to go on but I have never been so comfortable in a house year round. I have a solar system that runs much of the electrical needs of the house, so I do not have the usual energy bills to make a more objective comparison with other houses in this area.

What I can tell you is that I have turned down my heating system to 60 degrees this winter when it went down to 35 degrees overnight and the temperature inside never got below 65 degrees. I thought that a good indicator of the superior thermo-dynamics of the wall structure.

I am not sure what else to say. I love the stability of this house and its thermal quality. Please fell free to give this testimony to anyone you wish."
-Jonathan Reily
---
Dick and Kathy Hartman, Hartman, New Mexico
"We LOVE our home. We were able to do the floor plan and build the way we wanted. We worked together to build our outside walls. This saved us a bundle in labor and it was fun watching the walls go up.

"Now that we are living in our new home, the heating and cooling is very efficient! I have had my air on 74 degrees all summer (and we have been in the low 100's). Our house has been very comfortable!

"Now that it is getting cooler, I have not changed the air temp, but we are heating very little with a pellet stove, or our wood stove.

"I am enclosing a few pictures so you can see the walls and the outside of the house. Absolutely beautiful! Everyone who comes is in awe!

"Thanks for such a great product!"
-Dick and Kathy Hartman
---
Tom Foley, Port Townsend, Washington
"Dear Paul,

"Carol and I are delighted with our new home, and glad we built with Faswall. The whole ground floor feels comfortable, quiet, easy to heat, and of course, strong (not a bad thing when the wind blows!). Construction involved some new skills but was straight-forward and easily within the reach of anyone who has done regular construction. Wall-building went fairly quickly, even when I was working alone. Also, the instructions from ShelterWorks were clear, as was the support you gave us during construction.

"We stuccoed the outside walls, and brushed on a slurry of Xypex between the base and finish coats to ensure water repellency. We were careful to install uphill drainage around our foundation and used "Miradrain" against the areas we backfilled as you recommended. We have had no moisture problems whatsoever.

"The inside walls are finished with Structolite, and the deep window-sills are tiled with a front sill edging of hardwood. Unlike some other concrete forming systems, Faswall blocks will accept treated deck screws which we found greatly simplified the attachment of interior walls and trim, and also allowed greater flexibility for changes in design.

"Thanks again for producing a great product and helping us build with it."
-Tom Foley
---
Anthony Parks, Three Rivers, California
"First, let me say that, at the start, I was very impressed with Shelter Work's interest in my project even before a single block was shipped to me. All personnel I came in contact with at the company bent over backwards to make sure all my questions were answered to my satisfaction. I actually felt that my project was the most important project the company was working on at the time. They worked well with my General Contractor (GC), were very available for any and all questions, from the simple (me) to the more complex questions that my GC required to complete the project, as it was of his first Faswall projects.

"I was also impressed with the fact that the guys from Shelter Works' physically visited our job site to meet with my GC to specifically find out how they could improve the "kit" that is, the bulk customized materials that ship out in bulk for the entire project. Shelter Works was all ears as my GC communicated areas of improvement to the kit in regards to having the required quantity of specific types of block for the corners, the ends, the caps, etc. But the point is they actually made it a point to understand how they can make the project go more smoothly for the builder and listened to the challenges that he faced from the contents of the kit to the challenges of the actual physical construction process.

"In the end, I was very impressed with the finished product. The blocks were manufactured in a high-quality manner, and when joined together to form walls they were incredibly solid. The blocks indeed provide a high insulation factor, and proved to be an extremely strong shell and weight bearing structure. I also like the fact that the blocks utilize recycled materials and accepts a wide array of finishes that adheres well to its perforated surface character.

"Shelter Work's provided me with my first experience with this new and innovative technology and it was a very good experience from start to finish as they were there for us all the way through, even well after they had received their funds."
-Anthony Parks
---
Scott Green, Birmingham, Alabama
"We absolutely love our new Passive Solar home. No other structure that we have lived in gives the same unique, solid, and ambient comfort such as Faswall. Our experience with the technical support from a Shelter works contractor was an important part of the project success. I personally worked with the crew on a portion of the home and had no problem understanding and implementing proper construction technique. Ultimately we choose Keim plasters and paints for a soft, strong, and fully vapor permeable system. As the electrician on the job I quickly adapted to the pre-planning requirements of using Faswall. Additionally our plumber and other tradesman were able to plan accordingly and easily adapt to a construction method which ultimately is so much better than stick building."
-Scott Green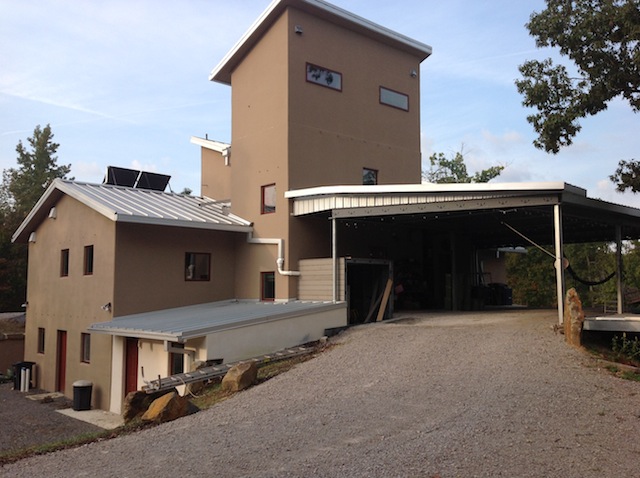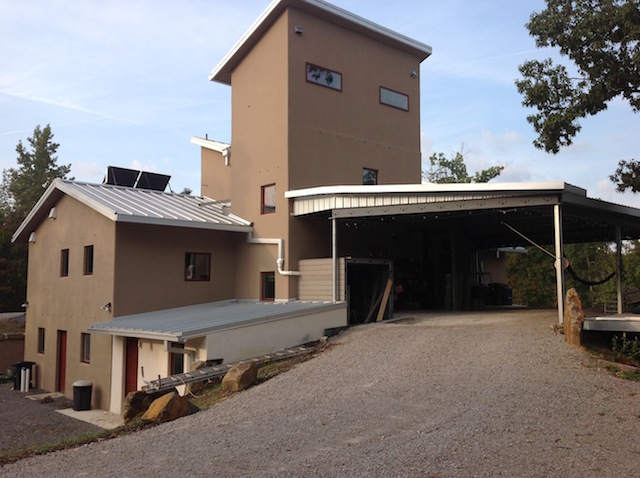 ---
Gary Steinert, Fresno, California
"Greetings from California Paul!!!! We have just past the one year mark move in date, and still pinch ourselves every day!!!! We love our Faswall environment! I say it that way because it's a feeling that has to be experience to understand the interior comfort of a Faswall project. I can hardly wait for you to see how fantastic our home turned out!!"
-Gary Steinert
---
Betsy Hunter, Yakima, Washington
Read their blog detailing their building experience.
"Our new passive solar home will be built with Faswall block. The Faswall material is ideal for this environment and will help keep us cool in the summertime and warm in the winter. It will give us strong, fire-proof walls and a quiet interior…

"We chose Faswall because it is fire-proof, termite-proof, quiet, allergen-free, strong, easy to use (can be cut, nailed, etc.), manufactured locally (near Corvallis, Oregon) and will help provide some thermal battery for our passive solar house. The blocks look something like concrete block with the two vertical chambers, but the resemblance ends there. Faswall is 85 percent mineralized wood chips and about 15 percent Portland cement. There are channels that run horizontally to hold rebar or conduit, and the two vertical channels in each block also can hold rebar and conduit. There is foam insulation added to the inside chambers, at the exterior wall of the block. The blocks are dry-stacked (no mortar), and after rebar and conduit is in place, the stacked blocks are in-filled with concrete. The poured concrete then forms a reinforced concrete grid throughout the walls. The standard Faswall block is 2 feet wide by 1 foot thick by 8 inches high, however, the blocks can be cut with the same tools used to cut wood.

"My preliminary house design, prior to handing it off to Winter Sun Design to get it made into a workable and per code design, was designed for the Faswall block to minimize trimming of the block. In reality, some trimming is inevitable due to items like standard sizes for door height, for example, which does not neatly fit into a multiple of 8 inches. For the most part, though, this house was made for Faswall. I can imagine that designing a house without much consideration to the dimensions of the Faswall block would add alot of extra work to the carpenters and crew building with the blocks."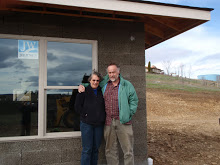 -Betsy Hunter
---
Gene & Coleen Stevenson, Shop Builders, Mohawk Valley, Oregon
Read their blog detailing their building experience.
"Gene's dream is finally going to happen. After 30+ years of doing his woodworking out of a garage, he finally is building his dream shop.

"While he is quite familiar with wood framing (we built our home) when we found Faswall (www.faswall.com) at our local Home and Garden Show a couple years ago, he quickly became enthused with it's attributes. The ease and speed of building with it was quite enticing. Since it was going to be pretty much just him and me (his dear supporting loving wife) we decided this would be the way to go. Not to mention it's a recycled product! We've always lived 'green'…long before it was even fashionable. So, Faswall was a perfect fit."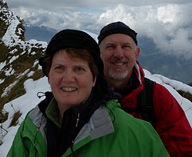 -Coleen Stevenson
---
Janice Reich, Mancos Valley, Colorado
"One of the things we love is….cool in the summer, warm in the winter. Right now it is 47℉ high, 21℉ at night, and the radiant floor heat with solar panels keeps the place at 71℉. At night we have lost a max of 4℉ and that was when it got down to 10℉. Last night it went from 71℉ to 69℉ by the AM."
-Janice Reich
---
Jon Harv
Read Jon's blog detailing his building experience.
"The orginal plans were developed with Durisol ICF blocks…

"The two products are similar in composition and less so dimensionally, but still generally compatible products. Faswall is 8″ tall where Durisol is 12". Horizontal steal is placed at 16″ intervals with Faswall (every other course) and at 12″ minimum intervals with Durisol. This meant the structural engineer needed to do some work to establish a revised steal schedule. Further, I needed to be convinced that the 12″ block all the way up would have an acceptable appearance at the transition from plaster to board and batten.

"Mike built some mock-ups and, while I believe the stepped transition would look better, the benefits in switching to Faswall had a greater influence on the decision to make the change. The primary benefits are that Faswall (by Shelterworks) were far more forthcoming with information and technical support, and the manufacturing plant is located in Philomath Oregon (575mi) vs. Ontario Canada (2,600mi)…

"I've been very pleased so far with the ease of assembly and cutting blocks to form a straight and true wall. The workers, who are skilled in carpentry and to a lesser extend masonry, seem to work with the new construction method with ease. Even the electrician, who is more accustomed to rolling in on the job after the wood framed walls are up and running wire and attaching junction boxes most anywhere, is positive about working in the somewhat more constrained environment…

"I even installed a few courses of Faswall block with my daughter and found it to be straight forward and relatively easy to do well."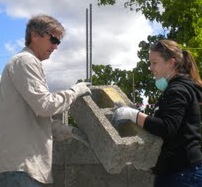 -Jon Harv
---
Tyrone Gorre, Faswall Homeowner & Do-It-Yourself Builder, Meadow Vista, California
"We are enjoying performance and design features already. Our home is alive…"
-Tyrone Gorre
---
Kevin Huth
"I cannot recommend this product enough for anyone seeking a hands-on experience for building or renovating their own home. We used Faswall as our new foundation material for an 1894 Victorian house, and its consistency, stackability and ease of handling and tooling made the project a breeze. No extra cost or wasted material for concrete forming was also a plus. This being our first major renovation, our results gave us confidence right at the beginning of our project, and the exterior finish fit the aesthetic of our design."
-Kevin Huth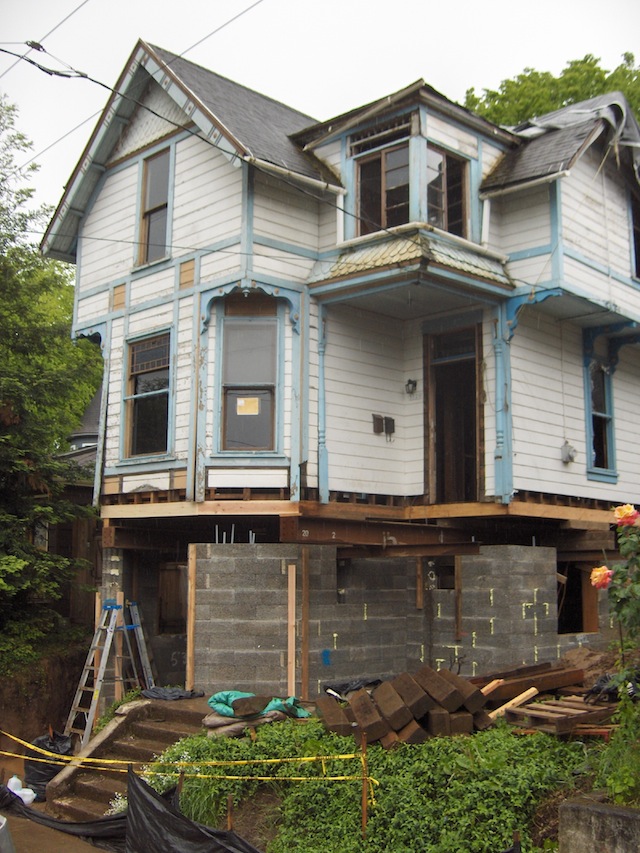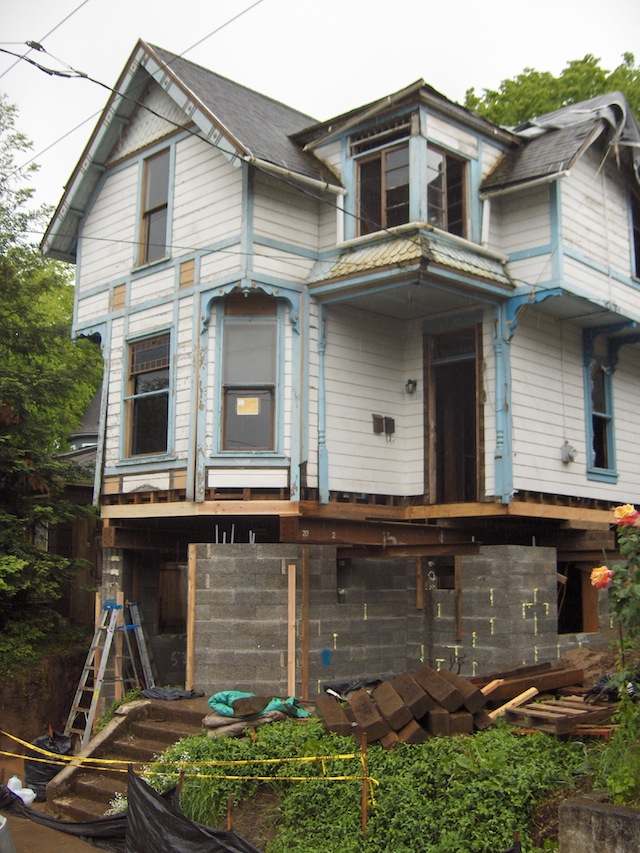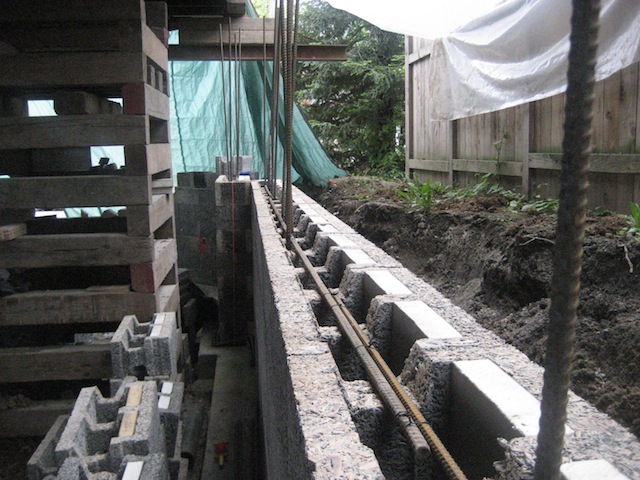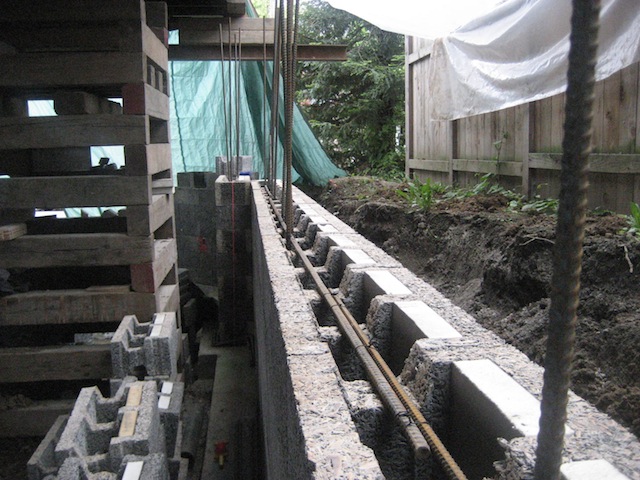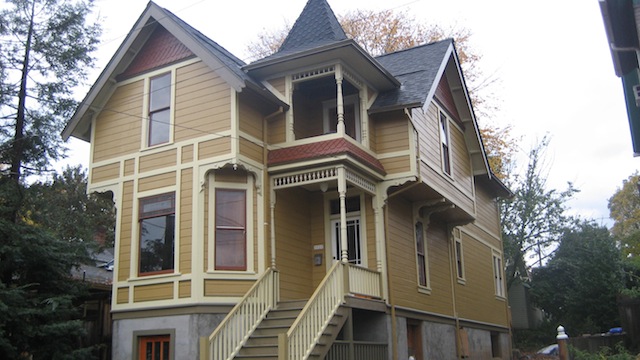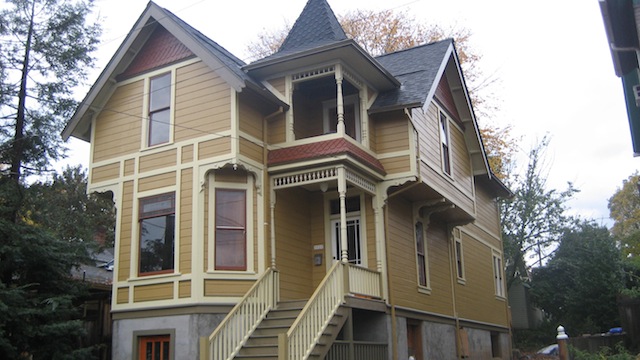 ---
Mike and Kam Watkins, South Carolina
"Building with Faswall remains one of the best choices that we made in our house building process. It was very easy to work with as owner builders. We could build the house at our own pace as the product is much more tolerant about being exposed to the elements. It always laid down straight and true. It makes an ideal surface for finishing with plaster. We chose to do a lime plaster for its vapor permeability. The fact that the Faswall will hold a screw anywhere is also an added bonus. Our house is very energy efficient and because of the thermal mass, it is easy to maintain consistent temperatures. It is cool in the summer and warm in the winter. I also felt very safe and secure in our house and I have told my neighbors that if a big storm or tornado comes, don't hesitate to come knock on our door. Our house is not going anywhere!"
Mike and Kam Watkins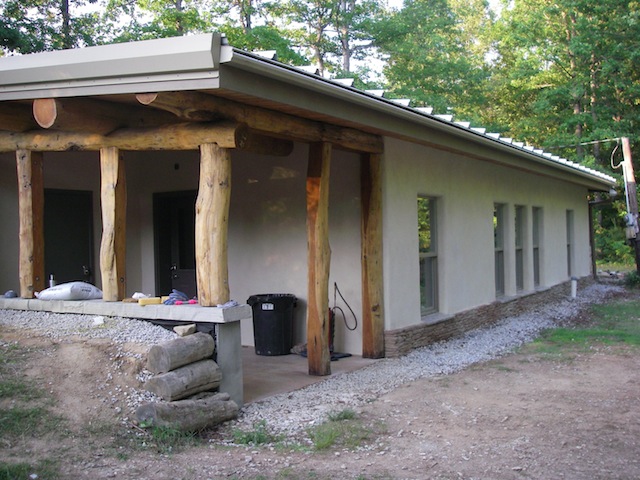 ---
---