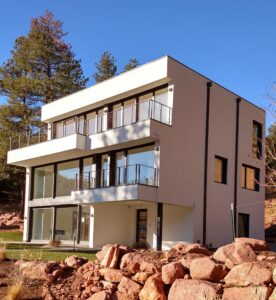 For years homeowners, contractors, architects and material manufacturers have focused on "green building," or constructing homes and businesses that have less of an impact on the planet. But more and more, they're moving away from the term green building in favor of "high performance building." Industry experts believe this phrase does a better job of explaining the myriad goals they hope to meet, including lowering a home's carbon footprint, saving the owner money on energy bills, and creating a structure that will last for a long time.
Since the term high performance building is so new, there's still a lot of confusion about it. What does high performance building mean? Why is high performance building better than green building? How do you build a high performance home, office, warehouse or other structure? We'll explore these questions in more depth.
The National Institute of Building Science defines high performance building as creating structures that "integrate and optimize all major high-performance building attributes, including energy efficiency, durability, life-cycle performance and occupant productivity."
That's a bit of a mouthful. Let's break it down.
Energy efficiency is one of the most important parts of high performance building. Decreasing your home's energy usage is important for many reasons. In the United States, electricity production is the largest contributor to climate change, creating 31% of our total greenhouse gas emissions. Forty-one percent of all the energy Americans produce is consumed by residential and commercial buildings. If people can significantly lower the amount of energy needed to power their homes, they can make a big difference in the fight against climate change.
Increasing your home's energy efficiency can help you save money on your utility bills, and get you closer to the goal of living partially or completely off the grid. For people interested in homes that utilize net zero, Passive House or passive solar principles, building an energy efficient structure is a must.
Durability is another important component to a high performance home. When you construct a building that will  last for a long time, all the energy and materials that went into making it remain there. From an environmental perspective, saving the embodied energy of the home is vital because it keeps materials out of landfills and decreases the amount of new materials that have to be harvested, mined and processed. The longer a home stands, the longer you can retain that embodied energy.
The average high performance home is designed to last for up to 200 years. Because it's built to such high standards and with such quality materials, it's better able to withstand natural and man-made hazards such as severe weather (hurricanes, tornadoes, tsunamis, etc.) and wildfires. If you've ever dreamed of having a house you can pass down to your children and grandchildren, building a high performance home will help you fulfill that dream.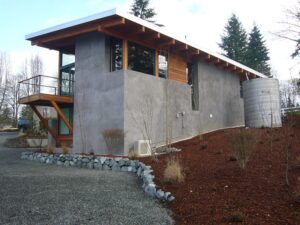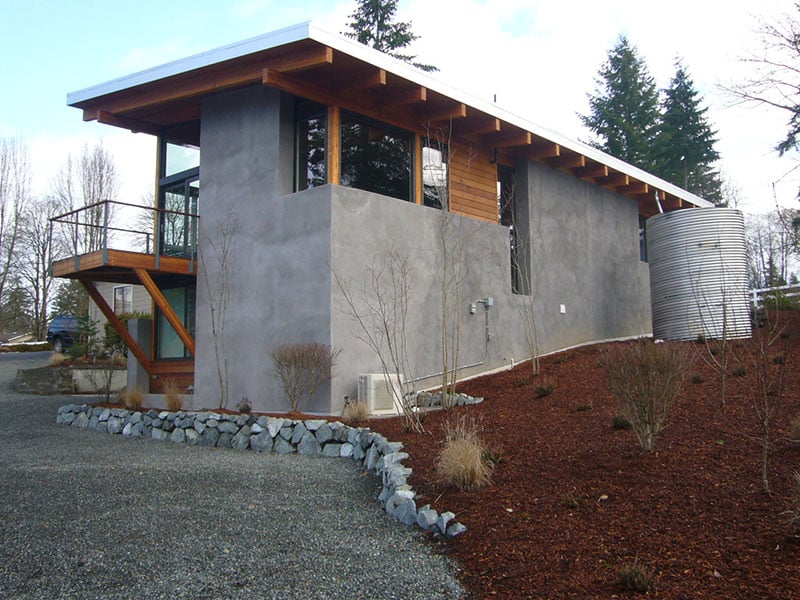 Life-cycle performance is similar to durability. It takes into account how well the building performs over its long life.
Having good life-cycle performance means the home meets all the owner's goals (no or low utility bills, lower maintenance costs, good indoor air quality, etc.). It does that now and into the future. A high performance building should be built well enough and smart enough that it doesn't require a lot of time or money to maintain. Not only is it made with high quality materials, it utilizes the best in building science to reduce mold, rot and other problems. Some examples of smart building science include looking at a building's envelope, thermal mass, materials, heating and ventilation systems, and defense against rain and the natural elements.
We believe occupant productivity comes down to the health and comfort of the people who live and work in the building. One of the biggest considerations for a healthy home is good indoor air quality. In older homes, air and moisture have many places to enter the house, but few places to escape. As a result, the air is full of dust mites, mold, bacteria, pollen and other allergens. It's estimated that the air quality inside a typical home is two to five times worse than the air quality outside. That's concerning because Americans spend 90% of their time indoors.
In high performance homes, the interior air is continually exchanged with outside air that has been filtered and tempered. That means mold is less likely to form inside the walls, allergens and pollutants don't enter the home, and you and your family have a healthy, pleasant living environment. High performance homes are also built with non-toxic materials that will not off-gas formaldehyde, phthalates, VOCs, flame retardants and other harmful substances into the house.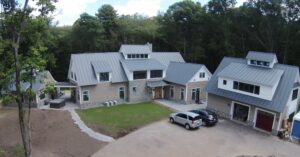 Another way high performance homes increase occupant productivity is by providing a high level of comfort. All the building science involved in creating high performance homes means structures have a consistent interior temperature, no drafts and very little noise. They are clean, full of light and smell good.
In addition to the four attributes described above, we would like to add that high performance homes are built with what we've come to know as green building materials. Green building materials contain recycled materials, are easy to recycle at the end of their lifecycle, have a minimal negative impact on the planet when they're harvested and manufactured, and/or don't contribute to bad indoor air quality.
High performance buildings should also be aesthetically pleasing and functional for the homeowner. If a building meets all its goals in terms of energy efficiency and occupant productivity, but it's ugly or has a bad floor plan, no one will want to live there. It increases the likelihood that the building will be torn down at some point.
If you're looking for the perfect building material for your high performance home or office, Faswall is an excellent choice. Faswall ICF wall forms create structures that are extremely energy efficient thanks to their high thermal mass.
Faswall is made with a blend of recycled wood and concrete, which makes the blocks extremely durable. Homes can last for well over 200 years. The mineralized wood composition ensures Faswall resists pests and will not mold or rot. Wood and concrete are completely organic materials that will not off-gas into the house.
The interior and exterior of a Faswall home, office, church, outbuilding or other structure can be finished any way you want. As you can see from the photographs, the structures look beautiful when they're done. Faswall blocks are easy to work with, whether you're an experienced contractor or a DIY home builder.
If you'd like to learn more about building a high performance home with Faswall, please contact us today. If you'd like to learn more about high performance homes in general, here are some resources:
High Performance Building Council
High Performing Buildings magazine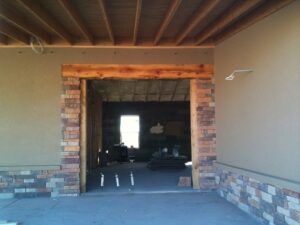 If you're a DIY builder thinking about building your own home, you don't have to take our word that Faswall green building blocks are perfect for do it yourself homebuilders. Many of our customers have provided excellent feedback over the years.
Dick and Kathy Hartman used Faswall green building blocks to build their own home in rural New Mexico. The gorgeous stucco structure has stone details, a metal roof and wide window wells on the inside. (All the photos in the post come from Dick and Kathy.)
Here's what Kathy has to say about Faswall:
"We LOVE our home. We were able to do the floor plan and build the way we wanted. We worked together to build our outside walls. This saved us a bundle in labor and it was fun watching the walls go up.
"Now that we are living in our new home, the heating and cooling is very efficient! I've had my air on 74 degrees all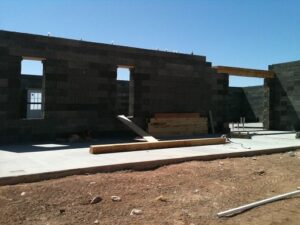 summer (and we have been in the low 100's). Our house has been very comfortable! Now that it is getting cooler I have not changed the air temperature, but we are heating very little with a pellet stove or our wood stove.
"The house is absolutely beautiful. Everyone who comes is in awe! Thanks for such a great product!"
See the features that make Faswall such a green building material here.
Rob Story of Washington also had a great DIY homebuilding experience with Faswall green building blocks. His 1,200 square foot house with a 1,000 square foot office also has a metal roof, stucco exterior and many features he and his wife love.
Rob built his own home when he lived in Hawaii, but he definitely didn't consider himself an expert builder. Still, he says, he found his experience with Faswall "excellent, exciting, fulfilling and rewarding.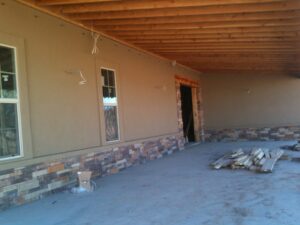 "As my wife and I considered what type of home to build, we also had to decide what to build with," he says. "Our number one requirement was warmth. We also had deep interests in low environmental impact, longevity of structural integrity, energy efficiency, ease of building and aesthetics. I had firm wants with the materials I was going to use: no drywall, no foam, no plastic vapor barrier, no crawl space and no glass insulation with formaldehyde."
A friend told him about Faswall and he was intrigued. "I called ShelterWorks and started asking questions," Rob says. "They took ample time with me and answered my questions. As it became clear to me that Faswall was the way I wanted to go, my wife and I scrapped our design and did our last re-design using Shelter Works suggestions. That helped lessen the materials we needed and saved some money. We placed our order and away we went.
"Everything went great. Our blocks came right on schedule, block counts were accurate, telephone support was
available and the material quality was very consistent. I was very surprised how fast the structures went up.  Once the slabs were poured, we began stacking blocks.  It took four of us two weeks to stack, brace, plumb and pour both structures.
"Heat retention in the winter has been great. We sit inside as the Northwest winds howl and feel cozy and safe in our strong and sturdy home. People come by and marvel at our place. I'm happy to tell them about it because I really feel that we made the right decision to build with Faswall. There is not another material that would serve us better in the long run."
Can we help you write your own DIY homebuilding success story? Even if you're just considering what it would be like to build your own home, please contact us today. We enjoy talking with DIY home builders about how they can feel the pride and get the cost savings of building their own home.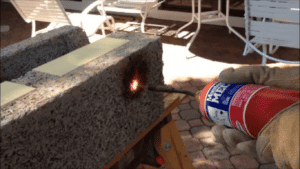 Faswall green building blocks are made with a special blend of wood and concrete. These 100% organic (and 60% recycled) materials make it an ideal building product for many reasons. Faswall creates homes, offices, warehouses and other buildings that are extremely energy efficient. Faswall green building blocks are a great place to begin if you want a home with superior indoor air quality. Their ability to resist mold and mildew make them ideal for wine storage, beer breweries and many other uses.
But there's another reason building with Faswall green building blocks is a great idea. They make homes that are extremely durable. The blocks are very strong and create structures that can easily stand for hundreds of years. Termites, carpenter ants and other pests have a hard time eating into them because the cement outer layer completely impregnated the blocks with a mineralized coating.
Faswall is fire resistant
In the western United States and Canada, where much of the region is in a historic drought, we are very concerned about forest fires. John and Patti O'Connell, who were interested in building a Faswall home, were also concerned about the fire resistance of the blocks. So John did his own unscientific test, which you can see in this video.
Basically, John took a propane torch and held the flame directly against a Faswall block for two minutes. The direct heat burned a tiny hole in the block, and made the insulating insert in the block smoke a little bit, but it didn't catch on fire. In fact, at the end of the test, John was able to lay his hand on top of the block because it had barely gotten warm.
"I don't think you have to worry about forest fires," he says. Especially since, as he says a moment later, "This is obviously a hell of a lot more heat than any forest fire is going to deliver."
Faswall holds up great in wet climates
We hope some day it will begin to rain in the western states again. When it does, we expect we'll see a lot of it. Those of you who live in southern states and occasionally fall victim to hurricanes, flooding and major storms may see even more.
Faswall green building blocks are also able to stand up to very wet conditions. Tom Bristol of Purple Flattop Architecture in Chewelah, Washington was dubious about just how much the wood/concrete IFC wall forms would be able to resist water. He decided to run a test of his own.
Tom took a Faswall block and dropped it in a bucket of water. And left it there for 10 years.
The result? The Faswall green building block has seen little to no deterioration over that time.
Now, we're certainly not recommending you build your home by a flood plain, a beach frequently ravaged by hurricanes or tsunamis, or an area prone to forest fires. But should disaster strike – which is more likely as climate change continues and the world's weather gets more unpredictable – Faswall green building blocks will give you more reassurance that your home will last and stay safe.
Are you interested in building a home with ultra-durable, ultra-green Faswall? How about an office, commercial space, house of worship, wine cellar, root cellar or another structure? Please contact us for more details.