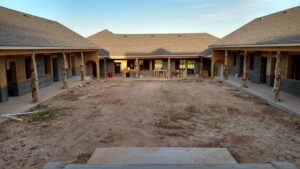 When a Buddhist community in Dallas started making plans for a new temple, cafeteria and dormitory, they wanted to create the healthiest and most ecological buildings possible. Inspired by the work of EcoNest® Company, they decided a mixture of straw and clay would be their primary building material.
While this combination is ideal for shaping and insulating walls, they also needed a product that would create a strong, durable and dry foundation (and, for the two-story dorms, strong bearing walls). They selected Faswall, a versatile ICF wall form that's ideal for many types of projects. While Faswall's easy-to-use blocks can be used to create DIY or contractor-built homes, office buildings, warehouses, outbuildings and other structures, they also make great foundations and basements for buildings crafted from other materials.
The leadership team in the Buddhist community liked Faswall because the concrete and wood blocks are made of 100 percent organic materials. Eighty-five percent of the wood in each Faswall block is clean, recycled pallet wood. It's combined with virgin wood and Portland cement to create a product that will not off-gas chemicals into buildings.
"Many of our customers are interested in using the Faswall block to create healthy living environme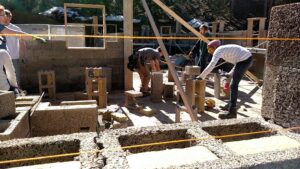 nts," says ShelterWorks co-owner Paul Wood. "They want indoor air quality that's exceptional. Faswall creates an excellent vapor-permeable membrane that allows indoor air quality to be a natural part of the building and living experience."
The vapor-permeable nature of the blocks is important when it comes to other factors that affect indoor air quality. Because of Faswall's porous hygroscopic nature (i.e. the walls store and release water vapor through diffusion), the blocks keep relatively humidity levels low enough that mold spores don't grow in the walls. That keeps potentially toxic mold out of your building.
Faswall's ability to regulate relative humidity also keeps the structure more comfortable and livable. Most of the time, humidity is higher inside a home due to activities such as showering, cooking, even breathing. When a home has walls that don't breathe, and therefore relies on mechanical ventilation to vacate moisture, the indoor air can become denser than the desired 30 to 40 percent humidity level. That leads to the heavy-feeling air we often experience in basements.
Faswall's porosity allows excess indoor humidity to diffuse through the walls. With proper waterproofing, they don't allow water to seep into structures. That's why they're great for foundations.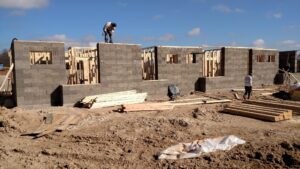 The other reason is that their mineralized wood composition makes them strong and durable. Faswall gives people building with straw bale, timber frame or clay/straw slipform a good base wall system to support upper walls.
The Dallas project isn't the only time Faswall has been used to build a Buddhist temple. Check out this story and video of the Sravasti Abbey in Washington to see their beautiful structure, which is built entirely with Faswall blocks. Other religious congregations have also selected Faswall as their building material of choice.
Perhaps that's not surprising. Faith helps comfort us in times of despair, celebrate in times of joy, slow down and reflect on the things tha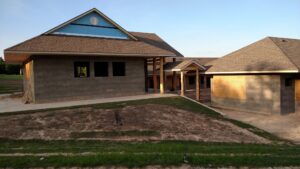 t are important to us. Just as a belief system is a versatile tool for living, Faswall is a versatile tool for creating the places that nurture and protect us.
No matter what type of structure you're thinking about building – and no matter what type of material you're thinking about using – Faswall can play a role in your next project. Contact us today to learn more about using Faswall building blocks for churches, temples, foundations, homes, offices, commercial buildings, outbuildings and more.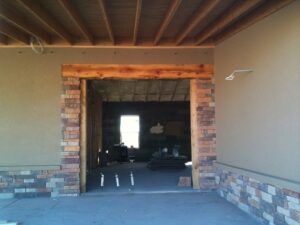 If you're a DIY builder thinking about building your own home, you don't have to take our word that Faswall green building blocks are perfect for do it yourself homebuilders. Many of our customers have provided excellent feedback over the years.
Dick and Kathy Hartman used Faswall green building blocks to build their own home in rural New Mexico. The gorgeous stucco structure has stone details, a metal roof and wide window wells on the inside. (All the photos in the post come from Dick and Kathy.)
Here's what Kathy has to say about Faswall:
"We LOVE our home. We were able to do the floor plan and build the way we wanted. We worked together to build our outside walls. This saved us a bundle in labor and it was fun watching the walls go up.
"Now that we are living in our new home, the heating and cooling is very efficient! I've had my air on 74 degrees all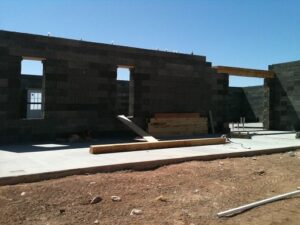 summer (and we have been in the low 100's). Our house has been very comfortable! Now that it is getting cooler I have not changed the air temperature, but we are heating very little with a pellet stove or our wood stove.
"The house is absolutely beautiful. Everyone who comes is in awe! Thanks for such a great product!"
See the features that make Faswall such a green building material here.
Rob Story of Washington also had a great DIY homebuilding experience with Faswall green building blocks. His 1,200 square foot house with a 1,000 square foot office also has a metal roof, stucco exterior and many features he and his wife love.
Rob built his own home when he lived in Hawaii, but he definitely didn't consider himself an expert builder. Still, he says, he found his experience with Faswall "excellent, exciting, fulfilling and rewarding.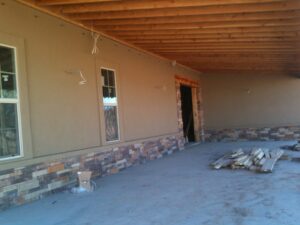 "As my wife and I considered what type of home to build, we also had to decide what to build with," he says. "Our number one requirement was warmth. We also had deep interests in low environmental impact, longevity of structural integrity, energy efficiency, ease of building and aesthetics. I had firm wants with the materials I was going to use: no drywall, no foam, no plastic vapor barrier, no crawl space and no glass insulation with formaldehyde."
A friend told him about Faswall and he was intrigued. "I called ShelterWorks and started asking questions," Rob says. "They took ample time with me and answered my questions. As it became clear to me that Faswall was the way I wanted to go, my wife and I scrapped our design and did our last re-design using Shelter Works suggestions. That helped lessen the materials we needed and saved some money. We placed our order and away we went.
"Everything went great. Our blocks came right on schedule, block counts were accurate, telephone support was
available and the material quality was very consistent. I was very surprised how fast the structures went up.  Once the slabs were poured, we began stacking blocks.  It took four of us two weeks to stack, brace, plumb and pour both structures.
"Heat retention in the winter has been great. We sit inside as the Northwest winds howl and feel cozy and safe in our strong and sturdy home. People come by and marvel at our place. I'm happy to tell them about it because I really feel that we made the right decision to build with Faswall. There is not another material that would serve us better in the long run."
Can we help you write your own DIY homebuilding success story? Even if you're just considering what it would be like to build your own home, please contact us today. We enjoy talking with DIY home builders about how they can feel the pride and get the cost savings of building their own home.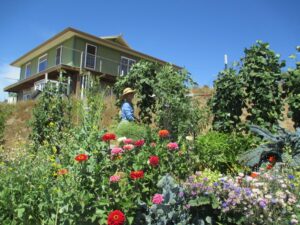 Coleman Pulsifer built his first home and helped several of his friends in rural Maine do the same. He enjoyed it so much he went on to work as a professional carpenter, building homes for others for many years.
When their first grandchild was born, Coleman and his wife Susan dropped everything to move to California and be closer to the little boy. They bought the parcel of land adjacent to their daughter and son-in-law's property, and Coleman returned to his roots as a DIY homebuilder. His two-bedroom, one bathroom home in California's Humboldt County was constructed with Faswall green building blocks, an ideal material for DIY home builders.
Coleman and Susan wanted a small home they could finance themselves, build themselves and keep completely off the grid. They acquired a small parcel of land that presented opportunities and challenges for building. It was a beautiful site with a large hill, which meant part of the home could be earth sheltered and the rest could be open to spectacular views.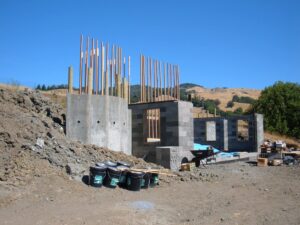 However, winds in their area can reach up to 90 miles an hour. Temperatures top 100 degrees regularly in the summer. California is likely to experience a major earthquake at some point, and wildfires present a new challenge to anyone looking to build in the rural west. The Pulsifer's new home needed to be durable enough to withstand everything nature threw at it.
Coleman first learned about Faswall green building blocks at Organic Grace, a northern California store that sells products for healthy and non-toxic living. "It was obviously well designed and easy for DIY builders to work with," he says. "Its insulative value was appealing. A surface texture that allows you to stucco and plaster was wonderful.
"A lot of standard ICFs are made out of Styrofoam. When you want to stucco, you have to do a whole other procedure for preparing it. With Faswall, after you've poured the wall you can finish them. The surface texture is excellent for plastering. It saves some time and some steps." Plus, he says, his old home in Maine had Styrofoam insulation that attracted ants.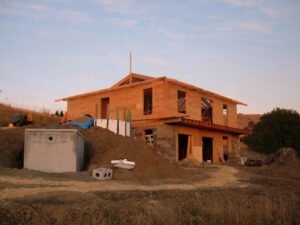 Coleman was able to build nearly the entire home himself, with Susan and their son-in-law pitching in when needed. The finished building measures 33 feet by 35-feet, giving it about 1,100 square feet on the main floor. A lower level has a studio and storage space. A metal roof has a full rain catchment system that supplies an above-ground swimming pool for the Pulsifer's grandson and a fire suppression system.
All the power in the home comes from a 200 watt solar panel. To keep their energy usage down, Coleman included a gravity-fed water system and a root cellar in the house. That, combined with ice chests, is enough to preserve all their food. "We haven't had a fridge for four years," he said.
The lack of power also means no air conditioning. That's where Faswall's superior thermal mass comes in handy on scorching summer days. "When you're down in the studio, it can be 105 degrees outside and it can be 80 degrees inside," Coleman says. "It's exciting how well the building performs."
Coleman says he was nervous about working with Faswall green building blocks at first because he didn't know anything about the material. Everything he learned about Faswall turned out to be great.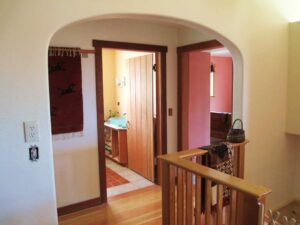 "I liked the fact that you could work with it with carpentry tools," he says. "You have flexibility to fine tune things if you need to. If you're going along and decide to move a window, you have that opportunity. You don't have to be rigidly locked to one-foot increment."
"The amount of steel reinforcement we put in made me feel much more confident, especially since we're in an earthquake zone," he reports. The chambers within Faswall green building blocks make it easy to insert rebar vertically into buildings. Those pieces can be tied in with the horizontal rebar placed between the blocks to give the building extra strength.
Coleman has several pieces of advice for do it yourself home builders who want to build their own home with Faswall green building blocks. "Part of the reason Faswall works so well is that it's permeable," he says. "It survives out in the rain perfectly fine, but it does allow moisture to go through. I would counsel people to be very conscientious about perimeter drains.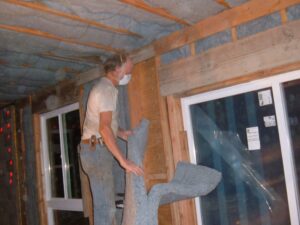 "The drainage and grading work around the foundation is also very significant, especially in a place that get lots of rain," Coleman says. "Pitch the finished grade so that surface water flows away from the house. Do careful backfilling. Don't slack off on it." Faswall's experienced construction consultants can help you include these features so that you home stays safe and moisture-free.
For anyone building their own home and trying to live in it at same time, Coleman offers a word of caution. "Fifty percent of couples break up during building projects. You're living in a place that's full of dust and insulation, that's incomplete but also full of dreams and anticipation."
He and Susan lived in a military surplus tent while they completed the downstairs. They stayed in the studio while they finished the upper level. They found it vitally important to keep the upstairs a worksite.
"If you have to clean up every day, you lose a lot of time," he explains. It's tiring, frustrating and means living in a construction zone that much longer. Instead, he and Susan taped up plastic sheeting and took other steps to contain the dust and debris littering the upstairs portion of the building.
Now that the home is finished, Coleman and Susan couldn't be happier with it. They have no debt, and they have a low cost, low maintenance home they love.
Are you interested in building your own home? Would you like that home to be net zero energy or have zero debt? Faswall green building blocks may be the solution you've been seeking. We love working with DIY home builders and people seeking all kinds of green building features. Contact us today to learn more about building with Faswall.