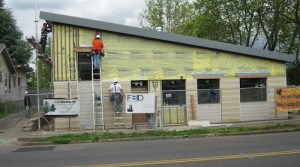 Faswall® is an excellent option for commercial buildings of all sizes, types, and heights.
It's simpler to build with that other building methods.
It's unrivaled thermal properties make it easier and cheaper to maintain comfortable temperatures in your commercial building.
It is impact-resistant, insusceptible to rot or insects, and does not degrade, which reduces your long-term maintenance costs.
See pictures of Faswall®-built commercial buildings and read testimonials from our builders.
See more Faswall® applications.